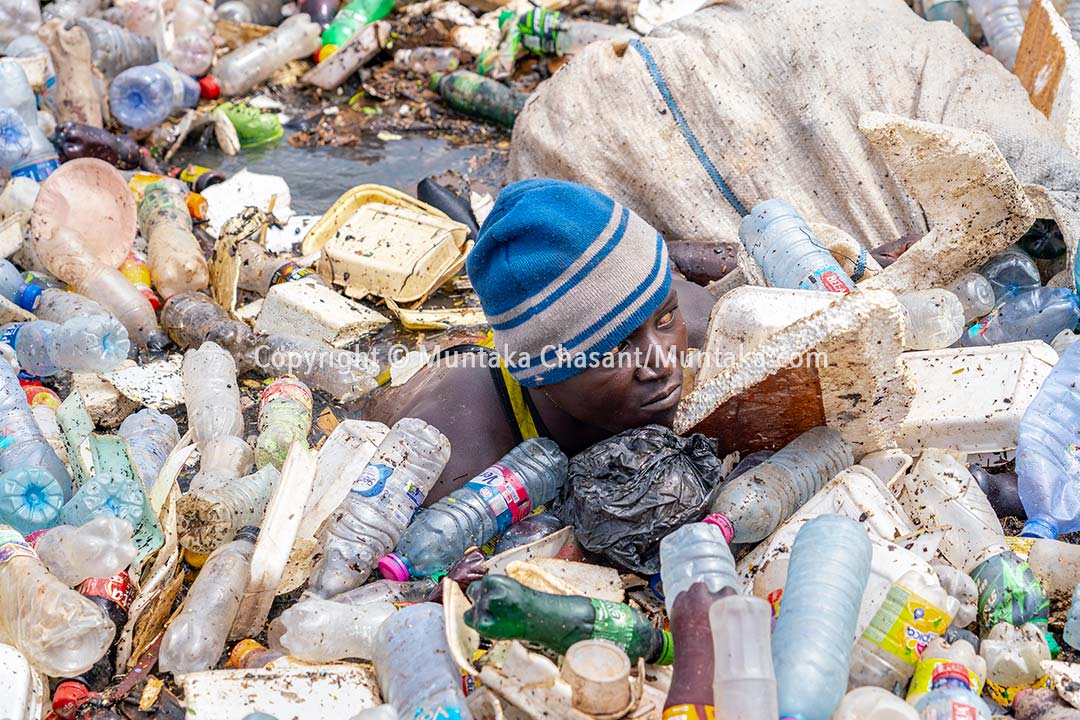 Plastic Pollution in Ghana: Urban Trash Heroes
Urban poor men risk injury and drowning to swim in the heavily polluted Korle Lagoon — float alongside human remains sometimes — to recover recyclable plastics, which they sell for around $0.17 per kilo.
June 26, 2020
Urban poor men risk injury and drowning to swim in the heavily polluted Korle Lagoon — float alongside human remains sometimes — to recover recyclable plastics, which they sell for around $0.17 per kilo.
If you are a regular reader of the UK's leading tabloid newspaper The SUN, then there's a small chance you probably saw some of the photographs1 on this page on their homepage sometime early June 2020.
Yes, shocking scenes!
Here, I will briefly explain the context of these photographs. But first, have a look at the 3 min video below before scrolling down. It puts everything into perspective:
Plastic Pollution and the Urban Poor
The contemporary metropolis is often perceived as a space for urban elites.
Marginalized and excluded, the urban poor are regularly framed as 'loungers' — disregarding their potential contributions to the urban living environment.
Despite being discriminated against due to the fluid and contested spaces they inhabit, Accra's invisible and marginalized urban poor are reshaping the city. They do so in spaces removed from the sight of wealthy urbanites.
Accra's urban poor roam across dumpsites, streets, polluted waterways, and homes to recover waste recyclables generated mainly by the city's affluent population. But this role is not recognized and appreciated.
Scavengers — involving people of all ages and gender — play a leading role in the informal plastic recovery business in Ghana. They make significant economic and environmental contributions.
Scavengers and waste pickers help to reduce waste, cost of cleanups, and supply secondary materials to industries.
Descending into the Depth
Kwabena Akese (pictured above), 25, risks drowning to recover recyclable plastics from the Korle Lagoon in Accra.
The Korle Lagoon is a major outlet to the sea for Accra, collecting all kinds of debris — including solid waste — from the city's drainage systems.
Below are plastics coming from Accra's hinterlands during a rainfall event:
Risking injury, Kwabena regularly swims in the heavily polluted lagoon — usually a few yards from where wastewater from the Korle Bu Teaching Hospital empties into the lagoon — to recover polyethylene terephthalate (PET) bottles and high density polyethylene (HDPE), which he sells for pennies.
Kwabena's livelihood depends on the plastics.
He lost his father when he was 9 and moved to Accra from Nyarga in the Upper Eastern part of Ghana in 2018 to search for economic opportunities.
"I have sighted several human remains around here recently. One of the body's head had been decapitated," said Kwabena, pointing to a spot in the lagoon not too far from where he will later swim to recover recyclable plastics.
"It's a terrible place, but it brings us materials that help to put food in our stomach. I wish I didn't have to do this."
Ghana's Upper East Region had the highest unemployment rate2 in Ghana in 2015.
Thousands of young people escape hunger and poverty in Ghana's rural hinterlands to Accra in search of economic opportunities every year. With no education at all, many of them end up in the informal sector where they engage in hazardous work.
Not that it matters that some of them do not have an education. Unemployment rate in Ghana is higher for people with education than those without education.3
Only 3.1% of Ghana's population 3 years and older have a Bachelor's degree. A third (32.8%)4 of the population 3 years and older have only managed to obtain a primary level education.
More than half a million people aged 15 years and older are in informal employment in the Greater Accra Region area alone.
Plastic Crisis: Journey Of A Man
Kwabena, pictured above, has some plastics and heads over to a dumpsite about a kilometer away, where recyclers and middlemen come to buy the recovered materials.
What's next?
The coronavirus pandemic has crippled plastic recycling efforts. Is the plastic situation going to get worse?
Kwabena is also an Aspiring Musician
Kwabena is also an aspiring musician and lives in Old Fadama, the largest informal settlement in Accra.
He calls himself 'B-Town.'
He normally heads to a nearby recording studio after making enough to live through the day.
I caught up with him another time below:
Are you able to spot Kwabena in the sea of plastics?
Tagging along, I followed him after the plastic business to a small wooden shack recording studio inside Old Fadama to see him rehearse.
Kwabena seemed troubled by why 'women tend to be more attracted to wealthy men' in his song, and at some point asked what I thought of his lyrics.
Responding, we explored the link between wealth and fertility from an evolutionary standpoint, explaining along the lines to him that: "Coupling pressures seem to be driven by reproduction, and that wealthy men tend to have the excess resources required to provide economic security for women and their offsprings. But this trend is changing in gender-equitable societies. You'll probably prefer a spouse with a better financial prospect if you had to get pregnant multiple times and spend a significant chunk of your life raising children."
We touched on several other gender myths in his lyrics and came to an understanding. I had wanted to mix in Baumeister and Vohs' controversial sexual economics theory5, but I thought that would be way too many ideas to introduce in a short period.
He found this line of conversation interesting and even reached out later to ask more questions.
Kwebena has no education at all.
Ghana's Statistical Service estimates that around 40% of Ghana's population aged 15 – 35 years has no education at all.
He has two 'mastered' songs so far and hopes to be able to find someone to give his message a chance.
Joseph Nunoo A.K.A. Pizzaro
Nicknamed 'Pizzaro,' Joseph Nunoo, 35 , has the same story as Kwabena: an alienated man in Accra's harsh environment.
From the nearby Korle Gonno, Joseph is a full-time scavenger, and happy to see fresh plastic waste floating on the Korle Lagoon. "For me, the plastics mean money," Joseph told me.
Joseph dropped out of school at the Junior Secondary School (high school) level more than 20 years ago. He played volleyball in school and would love to go back to playing again.
Lost youth, yearning for the innocence of childhood, and the anguish of striving for a place in a tough environment underscored the theme of Joseph's heart-rending story of growing up in Accra amid scarcity and deprivation. But he told it with a smile and without bitterness.
"I didn't realize life was going to be this tough," Said Joseph.
"I miss my childhood and would love to go back and play volleyball on the beach once again."
Joseph's story filled my eyes with tears.
"I would love to be a driver," He told me when I asked if there was anything else he'd like to do.
Supporting Kwabena and Joseph
Both Joseph and Kwabena have asked me to find them a job. I'd give them one in a heartbeat if I had any.
If you read this and you are in a position to secure them befitting employment, please don't hesitate to reach out to me via the contact form on this website.
What Are The Risks Involved?
Kwabena, Joseph and the others risk serious injury and drowning by descending into one of the most polluted water bodies on earth to recover recyclable plastics to sell for food and clothes.
Accra's drainage channels empty their waste into the ocean through the Korle Lagoon.
Several factories in the city and the Korle-Bu Teaching Hospital (including mortuary wastewater) all discharge their effluent into the lagoon.
Sightings of human remains floating on the lagoon are common around the spot Kwabena and Joseph frequently swim to recover plastics.
Broken cathode-ray tube (CRT) glasses and other heavy metals — from the nearby Agbogbloshie scrapyard — all get washed into the lagoon during rainfall events.
Heavy rainfall causes the lagoon to overflow over the edges, collecting broken leaded CRT glass and other discarded e-waste parts left along its banks.
How Much Do They Sell (in 2020) the Plastics For?
There were inconsistent responses when I asked various people involved in the plastic picking business. Some said they sold the PET bottles for GH₵0.50 (around $0.08) per kilo, while others were happy to tell me they get a little more at GH₵1.00 ($0.17) per kilo.
The price probably depends on the plastic's quality.
They now have a bunch of plastics and no buyers. The coronavirus pandemic has severely impacted their livelihoods.
Is it all worth it?
Some Global Plastic Pollution Statistics
The think tank Future Agenda estimates that more than 270 million tonnes of plastic waste6 is generated worldwide each year.
According to a study published in mid-September 2020 in the journal Science7, 19 to 23 million tons of plastic waste generated worldwide in 2016 entered aquatic ecosystems. Despite all current worldwide efforts to tackle plastic pollution, annual emissions into rivers, oceans, and other aquatic ecosystems could be as much as 53 million tons by 2030, the study concluded.
Another study8 that examined the effectiveness of various actions to reduce plastic pollution has called for an urgent reduction in plastic consumption, increase reuse, and recovery/collection.
Jambeck and other researchers in a 2015 study9 estimate that more than 10 million tonnes of the generated plastics worldwide enter the ocean each year, with the Ellen Macarthur Foundation10 concerned there may be more plastics — by weight — than fish in the ocean by 2050.
Another study in 2017 involving Jenna Jambeck and Roland Geyer11 found that 55% of plastic waste generated worldwide in 2015 were improperly discarded.
There are probably more than 150 million tonnes of plastics in the ocean, the Ocean Conservancy estimates12 show.
A new study13 published (18 August 2020) in the journal Nature Communications estimates that there is 10 times more plastic in the Atlantic Ocean than previously thought.
Plastic Pollution In Ghana Statistics
Ghana generates around 1 million tonnes of plastic waste each year, according to a UNDP report14. Up to 5% are recycled. The rest accumulates in the environment, with around 23% ending up in the ocean.
What is The Way Forward?
Water quality is a major concern in many developing countries.
Piped water supply in Ghana is perceived as contaminated or unsafe, driving the use of sachet and bottled water.
Would improving water supply and making it safe cut sachet and plastic water bottles use? Would you transition?
Copyright © 2020 Muntaka Chasant
Sources