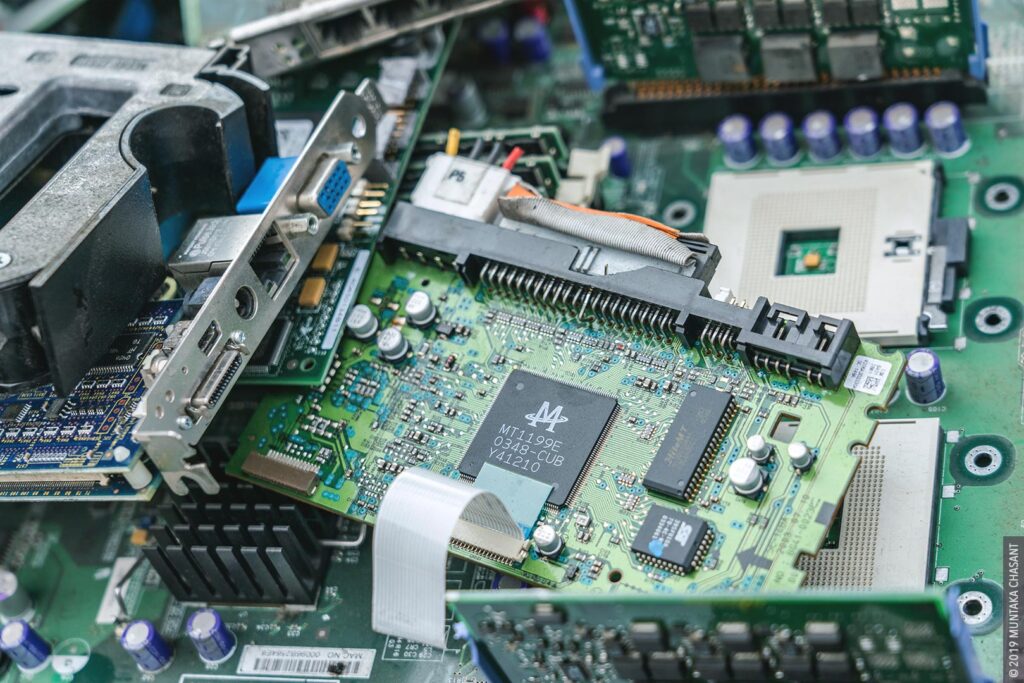 Agbogbloshie, Ghana: Questions and Answers
Looking at Agbogbloshie, Ghana, after the end of the second decade of the 21st century. I regret to announce — this also brings an end to some parts of my work at Agbogbloshie.
January 1, 2019
Looking at Agbogbloshie, Ghana, after the end of the second decade of the 21st century. I regret to announce — this also brings an end to some parts of my work at Agbogbloshie.
Last updated: January 1, 2020 22:54 GMT
The poverty, miserable living conditions, and the ecological ruin at Agbogbloshie, Ghana, have been the subject of many international headlines and essays over the years.
To some, a place such as Agbgobloshie can only be constructed as a consequence of the excesses of Western consumer culture.
As a counterpoint, others (myself included) place much of the burden of the environmental ruin at Agbogbloshie on the Government of Ghana.
A place such as Agbogbloshie could only have resulted from the shortsighted environmental policies of Ghana's successive governments.
Characterizations such as those above frequently miss some key perspectives: local perception and knowledge. This raises several questions for me:
What do the people themselves think?
Do they construe their problems in the manner that we attempt to theorize them?
Could what we see as a problem actually be an attempted solution by the people to tackle another problem?
If so, how do we retheorize their condition?
The answers to some of the questions above raise questions about the concepts and meaning of development, and the notion of bringing 'progress' to poor people.
This, in a way, reshapes our thinking on contemporary perspectives on development, especially in the world's poorest regions.
The answers to some of the questions above can be found in another question, which is this: where did all the trillions of dollars in aide money to the world's poor go in the last 70 years?
These questions are quite relevant to Agbogbloshie and the several attempts (some with donor aide money) to restore its degraded ecosystem, in my opinion.
Use the table of contents below to navigate through the answers to some of the most frequently asked questions about Agbogbloshie, Ghana.
Readers Also Liked: Faces of Urban Struggle
---
Brief History of Agbogbloshie
Agbogbloshie was a temporary settlement for refugees from what is locally referred to as the Guinea Fowl War (the Kokomba-Nanumba war of 1994).
A high ranking member of the leadership of the Agbogbloshie scrapyard has told me that small scrap activities started near the Old Fadama Police Station towards 'Galloway' as far back as the 1980s.
Things picked up around the late 90s when the Greater Accra Scrap Dealers Association was formed.
There are tales of Agbogbloshie being a thriving wetland with a small wildlife population in the 60s, 70s, and even the 80s. Not so much now, as you can see some parts of it in the video below.
The video above shows single-use plastic waste floating on the surface of the Korle Lagoon in Agbogbloshie, Accra, Ghana, as some of the plastics head to the sea. Fed by the Odaw River, the Korle Lagoon links to the Gulf of Guinea, the northeasternmost part of the tropical Atlantic Ocean.
---
Where is Agbogbloshie Located?
Agbogblshie is situated on the Korle Lagoon, near the center of Accra, Ghana's capital city.
Fed by the Odaw River, the Korle Lagoon links to the Gulf of Guinea, the northeasternmost part of the tropical Atlantic Ocean.
Agbogbloshie is about a kilometer away from Makola, one of Ghana's largest markets, and around 10 km away from the Kotoka International Airport.
Here's a satellite view of the location of Agbogbloshie.
What is Going on at Agbogbloshie?
Scrap and electronic waste activities have raised toxicity concerns around Agbogbloshie for more than a decade now.
Hundreds of scrap workers toil in the toxic environment at Agbogbloshie every day trying to salvage usable components from the waste stream.
Agbogbloshie is also the largest open food market in Accra.
This is how the Food and Agricultural Organization (FAO) of the United Nations characterized Agbogbloshie in 2016:
"Agbogbloshie is a toxic threat. The burning of e-waste releases toxic fumes that spread throughout the community, threatening city dwellers. The toxic chemical fumes released get into the food market and get inside the soil throughout the area when it rains. Indeed, high levels of toxins have been discovered in soil and food samples, as these chemicals stay in the food chain." – FAO, 20161
There are several environmental and health hazards related to recycling at Agbogbloshie. Among them:
1. The open burning of electrical wires to recover the copper materials inside
While mechanical processes such as hydrometallurgy and pyrometallurgy are used to recover traces of valuable metals from electronic waste in other parts of the world, urban miners at Agbogbloshie frequently use styrofoam packaging and scrap tires as fuel to remove the plastic sheaths off electrical wires for the copper materials inside.
This releases a cocktail of highly toxic substances into Accra's air, the soil, and the Korle Lagoon.
This is a major source of air pollution in Central Accra.
Air pollution is a leading risk factor for premature death in Ghana. More than 28,000 people die from air pollution in Ghana every year, according to the World Health Organization.2
Don't be too quick to start pointing fingers.
The burning of electrical wires to recover the copper inside has little to do with the illegal importation of electronic waste into Ghana.
Most of the wires incinerated in the open at Agbogbloshie are collected locally — from auto repair shops (cable harness), households, electrical contractors, and other junkyards. They also burn auto parts such as armature.
The burning of electrical wires at Agbogbloshie is a local problem that should be dealt with by the Government of Ghana — not Germany or the USA.
Don't confuse this problem with the unsafe dismantling of e-waste at Agbogbloshie. They are not the same problem.
Readers Also Liked: Smiling Men
2. The unsafe dismantling of e-waste at Agbogbloshie
This problem usually involves using hammers, bare hands, and stones, to dismantle parts of old television sets, laptops, desktop computers, mobile phones, and other electronics to recover the valuable parts inside.
Wires from electronics are also bundled together and incinerated for the copper inside.
The unsafe dismantling of e-waste and the open burning of electrical wires to recover the copper inside raise very serious concerns about toxicity at Agbogbloshie.
Scrap workers, the public (Agbogbloshie is the largest open food market in Accra), and livestock come in direct contact with toxic substances such as arsenic, lead, mercury, cadmium, and brominated flame retardants, at Agbogbloshie, every day.
In a study published in 2013, Jack Caranavos of New York University and other researchers found lead levels as high as 18,125 parts per million (ppm)3 in soil samples taken from around Agbogbloshie. US EPA's recommended standard for lead in bare soil in non-play areas is 1200 ppm and 400 ppm for play areas.4
A 2019 study by the Basel Action Network and the International Pollutants Elimination Network also found high levels of toxins such as polychlorinated biphenyls (PCBs), dioxins, and furans in chicken eggs from Agbogbloshie.5
What are Some Toxic and Hazardous Materials in E-waste At Agbogbloshie?
Readers Also Liked: How To Ruin A Planet
Ghana lacks the capacity to manage hazardous substances in e-waste.
Certain hazardous materials in electronics have been banned for several decades now, but because the majority of the e-waste that ends up at Agbogbloshie are old, they are mostly filled with toxic substances that pose risks to human health and the environment.
1. Lead: This can be found in cathode-ray tube (CRT) screens, printed boards, and batteries, at Agbogbloshie. Children as young as 9 years old use stones and hammers to break apart old television sets to recover the iron materials inside at Agbogbloshie.
The Agbogbloshe e-waste dump is strewn with broken CRT TV and monitor glasses.
Lead is known to cause severe impairment in children as it profoundly affects the development of their brain and nervous system.
According to the World Health Organization, there is no known safe blood lead concentration. This means that even a small amount of exposure can cause harmful health effects in both children and adults.
A study by Richard Canfield and other researchers in 2003 found a significant link between high blood lead concentration and a decline in IQ in children.
2. Mercury: This can be found in batteries, thermostats, and switches.
Exposure to lead is associated with kidney damage, and it's also known to impair neurological development in children.
As an e-waste and auto parts processing area, Agbogbloshie is filled with devices that contain batteries, thermostats, and switches.
3. Chromium: This can be found in a lot of electronic devices due to its ability to prevent corrosion. It also helps to increase the conductivity of electrical impulses.
Chromium is associated with occupational asthma, kidney, and liver damage, with the highly dangerous hexavalent chromium recognized as a carcinogen.
Other hazardous substances that can be found at Agbogbloshie include cadmium, dioxins, furans, and PCBs.
Is Agbogbloshie The Most Toxic Environment in the World?
Agbogbloshie is often erroneously listed as the most toxic environment in the world (in reference to Pure Earth & Green Cross Switzerland's ratings).
Pure Earth (formerly the Blacksmith Institute) is a not-for-profit organization that focuses on cleaning up toxic pollution in some of the world's poorest areas.
Green Cross Switzerland was founded by the former Soviet leader Mikhail Gorbachev in 1993 to provide assistance to country's facing serious environmental degradation.
Pure Earth and Green Cross Switzerland got together and made a list of the world's top ten most toxic environments titled:
THE WORLDS WORST 2013: THE TOP TEN THREATS.
Agbogbloshie, Ghana, was the only toxic threat to start with the letter 'A' on the list, thereby earning it the top-most position.
The toxic threats locations were not ranked, merely listed in alphabetical order.
Many people who did not notice this began spreading the word that Abgogbloshie was the most polluted place on earth. This is not accurate by Pure Earth & Green Cross Switzerland's rating.
You can see the list in this document. For your benefit, I'll provide the list below:
THE WORLDS WORST 2013: THE TOP TEN THREATS.
Agbogbloshie, Ghana
Chernobyl, Ukraine
Citarum River, Indonesia
Dzershinsk, Russia
Hazaribagh, Bangladesh
Kabwe, Zambia
Kalimantan, Indonesia
Matanza Riachuelo, Argentina
Niger River Delta, Nigeria
Norilsk, Russia
Source: Pure Earth and Green Cross Switzerland
Is Agbogbloshie The Largest Electronic Waste Dump in the World?
It is unlikely that a scrapyard covering less than half a kilometers could be the largest electronic waste dumpsite in the world. China's Giuyu6 covers more than 50 square meters.
According to Pure Earth and Green Cross Switzerland, Agbogbloshie is the second largest e-waste processing area in the West Africa sub-region. Most likely coming after the Olusosun landfill in Lagos, Nigeria.
The Olusosun landfill is often regarded as the largest dumpsite in Africa.
You can safely dismiss any headline that claims Agbogbloshie is the largest electronic waste dump in the world. You will know this claim cannot be accurate when you visit.
Who Profits From Agbogbloshie?
The valuable metal recovery business at Agbogbloshie is very profitable.
According to a UN Environment Programme report, the estimated value of recoverable materials in e-waste is worth over $62 billion every year. This is bigger than Ghana's 2017 GDP of $58.9 Billion (World bank).
For the copper recovery business at Agbogbloshie, the following stand to profit the most:
Government of Ghana
The scrap dealers and their clientele
Low-level scrap workers and Accra residents suffer the most while the scrap dealers, their clientele, and the Government of Ghana earn from this.
The Government of Ghana earns from this through export taxes.
The price of copper at Agbogbloshie as of January 2020 is GH₵10 (around $1.75/ Jan 2020 FX Rate) per pound. According to macrotrents.com, the global price of copper in the first week of January 2020 was around $2.80 per pound.
Some of the recovered copper wires from Agbogbloshie are exported, where they re-enter the global processing system.
Some of the 'burner boys' earn as low as GH₵2 (around $0.35 as at the time of writing this) per burn, and sometimes as high as GH₵200 (around $35) or more per day.
The 'burner boys' are the least earned in the process from picking up the wires to shipping them abroad.
And as I have argued elsewhere about this, removing the 'burner boys' from the picture won't be solving the problem of the open burning of electrical wires at Agbogbloshie. The scrap dealers would find their replacement the following day.
Read more about the situation above here.
Agbogbloshie Statistics
Getting reliable data from scrap dealers at Agbogbloshie is a big problem.
Much of the information Agbogbloshie scrap workers provide cannot be verified.
I'm currently using a different method to gather some usable data.
I collect data at Agbogbloshie for my personal use — to have a far better understanding of the problems — and not for any academic purposes.
I'll do my best to share some of them on www.muntaka.com whenever I'm able to find the time to process them.
Where Does The Electronic Waste in Ghana Come From?
Again, don't be too quick to start pointing fingers here. I'm no fan of pointing the blame elsewhere attitude in authorities in poorer countries.
Most of the electronic waste in Ghana are generated by people in Ghana.
True, they were imported, but they first add value to the local economy, by several years of use by people in Ghana before ending up at a place such as Agbogbloshie.
It is neither USA nor Germany's fault that old television sets used locally are ending up at Agbogbloshie. That's Government of Ghana's problem.
The Basel Convention still provides for the importation of electronic waste for repairs and reuse under certain terms, so yes, electronic waste still gets in. This 2019 updated document by the Basel Convention Secretariat clarifies these issues.
As a local myself, I can attest to how valuable used electronics are to the local economy. I have used the same secondhand Morphy Richards steam iron since 2012. It still works just fine.
I picked up the steam iron for GH₵60 (around $31 in 2012). Not sure if one of the latest built-in obsolescence clothes iron would have lasted this long even after being used before crossing the Atlantic to my parts.
According to the World Bank widget below, Ghana's GDP per capita is around $2,200 (2018). Not exactly the kind of environment where a lot of people can afford high-end gadgets.
Reuse is actually encouraged by the Basel Convention as a way to reduce the environmental footprint of manufacturing electronics.
Where Does Your Electronic Waste Go?
If you live in Ghana, your electronic waste most likely eventually ends up at a place such as Agbogbloshie.
There's a small chance your electronic waste ends up at Agbogbloshie if you live in Berlin, New York or Tokyo, these days.
If they do end up in Ghana, while some may still go straight to a place such as Agbogbloshie, the majority are used by locals for years before ending up at the landfill.
Has There Been An Attempt to Tackle Environmental Pollution at Agbogbloshie?
Yes, there have been several attempts over the years to tackle Agbogbloshie. None has worked so far, though.
Pure Earth, GreenAd, and the Greater Accra Scrap Dealers Association in 2014 inaugurated wire-stripping machines inside the Agbogbloshie scrapyard to help tackle the open burning of electrical wires. In short, this has not worked.
Read more about why the granulators are not working the link below:
Related: A Small Glimmer of Hope Comes to Agbogbloshie
The German implementing Agency Deutsche Gesellschaft für Internationale Zusammenarbeit (GIZ) with Ghana's Ministery of Environment also jointly inaugurated a €5million health post and training workshop inside the Agbogbloshie scrapyard to help tackle the impact of e-waste in Ghana.
Read the link above to see my criticism of this facility, and why it won't be doing much to help the situation.
There has been too much emphasis on technical solutions to Agbogbloshie. This is a problem on its own, I think.
My question is this: how do you tackle problems in poverty-stricken landscapes without involving the people directly and without critical data?
See my criticism of the approach to tackling Agbogbloshie here.
Visiting Agbogbloshie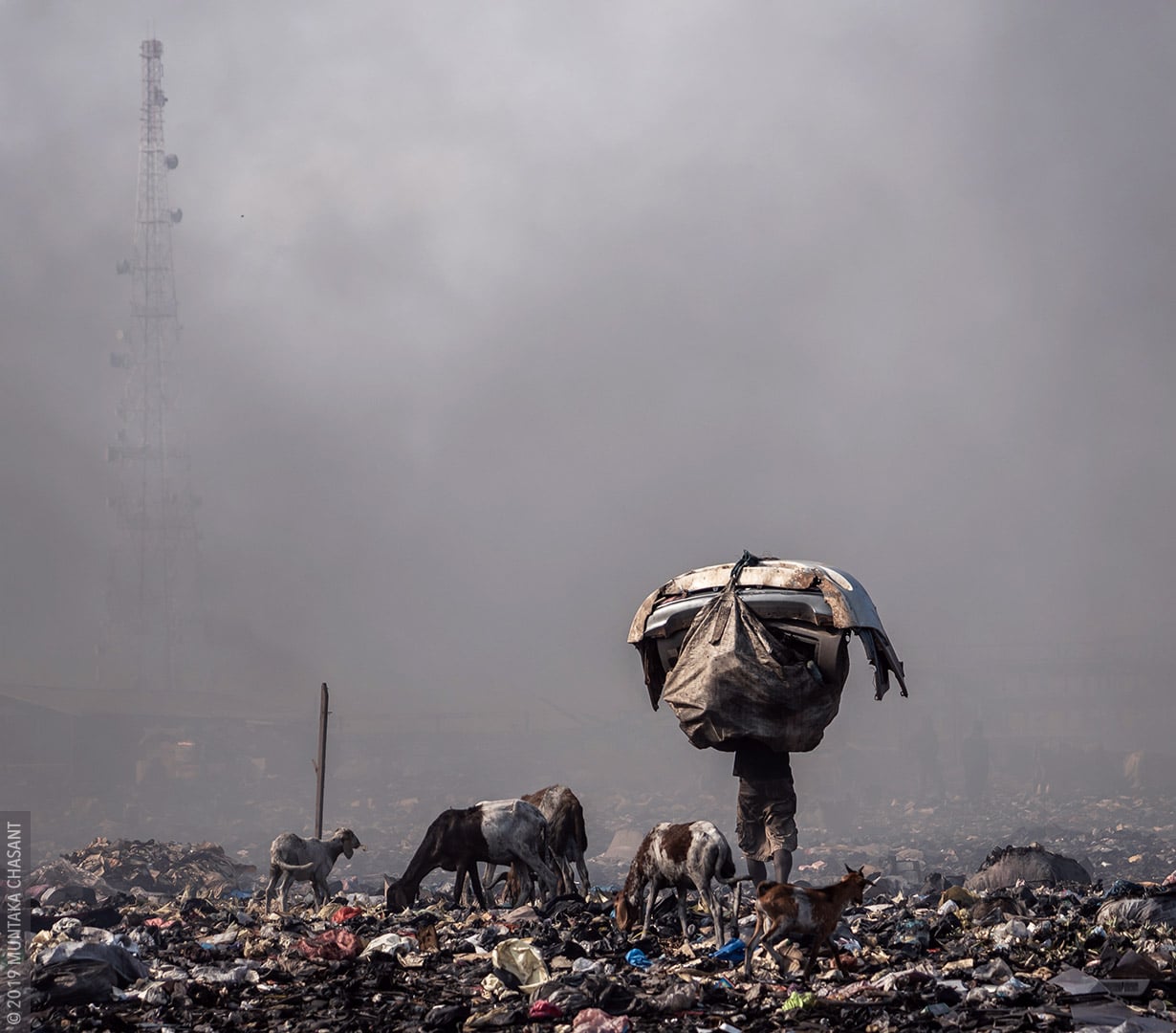 Everyone can visit Agbogbloshie — both locals and foreigners. No need to pay a tour company.
But ask your self this: why visit a place such as Agbogbloshie?
Out of curiosity? Google map is a good start.
Use Uber or a local taxi service if you still want to visit.
I strongly recommend you ask for the Agbogbloshie scrapyard Chairman's office if you are a non-Ghanaian. Tell whoever is available why you are there. You shouldn't have a problem.
Be respectful of the scrap workers. Don't photograph people without their permission. Ask their permission first, if granted, fine, if not, move on.
Some of the scrap workers ask visitors to pay money to photograph them. It's up to you if you want to pay.
I have seen tourists point their cameras at scrap workers without their permission. They are not always happy about this. While the place may appear like a ruin to you, it's actually a functioning scrapyard.
Toxicity levels at Agbogbloshie is no joke, so I wouldn't recommend you arriving there in flip-flops, sandals, tank tops, or shorts. Do this if you want toxins to settle on your skin.
Agbogbloshie 2020 and The Farewell
It was the end of a decade, and for me, it was also the end of an era.
I grabbed these scene below here on December 31, 2019, to mark the end of my uninvited participation at that area of society. That is, on the open burning of electrical wires to recover the copper materials inside at Agbogbloshie, Ghana. I announce this with a heavy heart.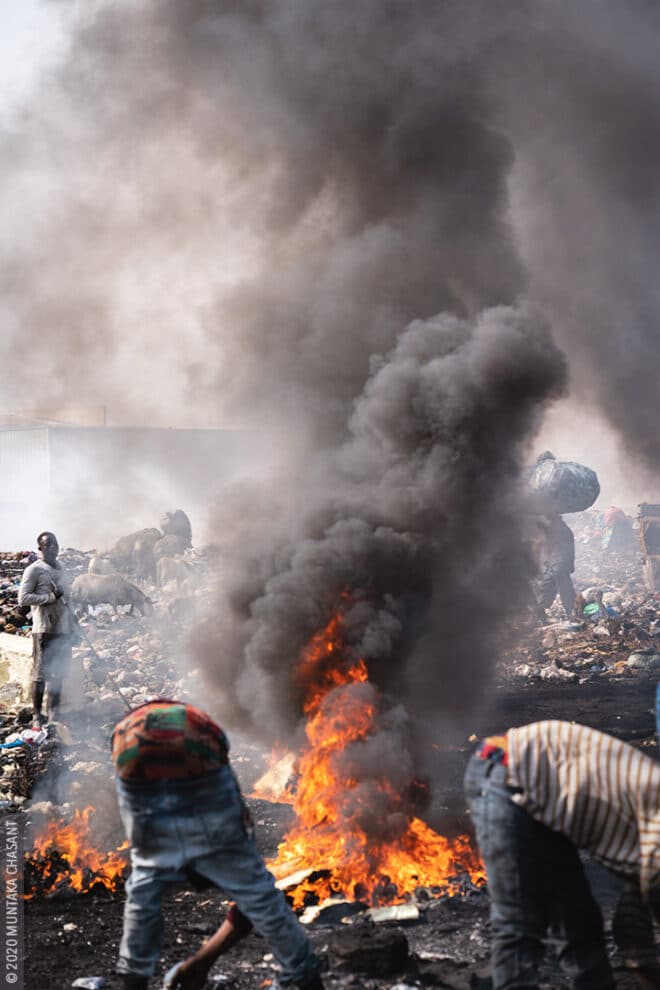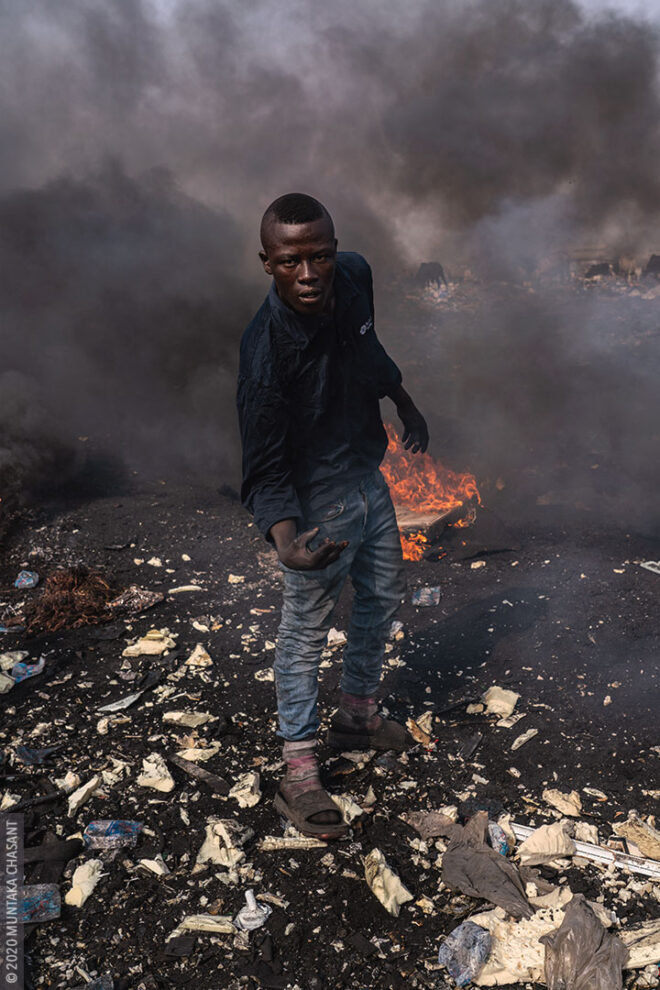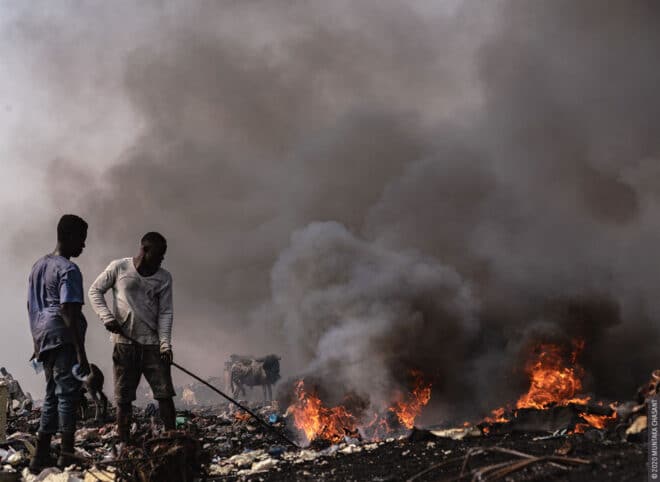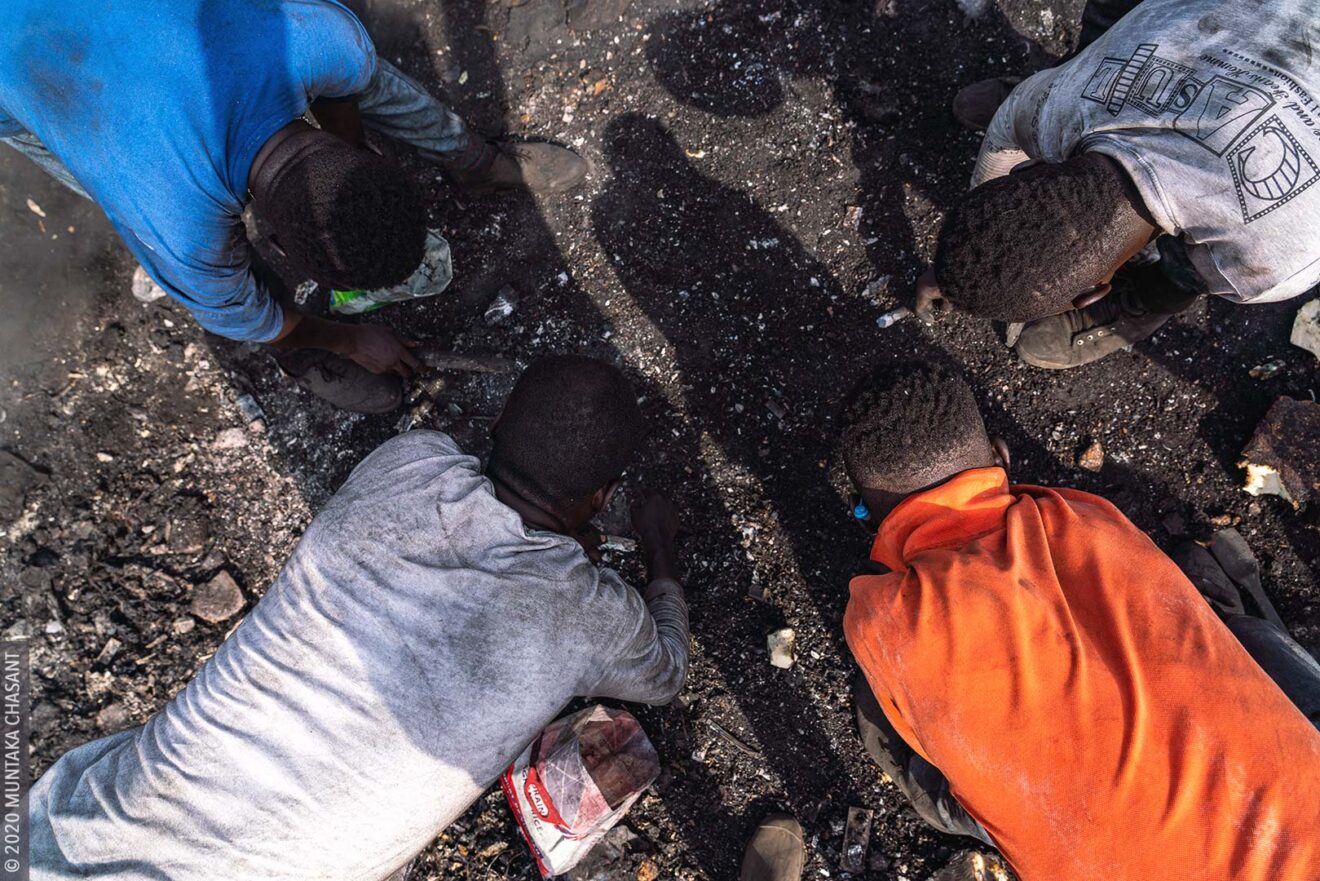 But I'm not totally moving out of Agbogbloshie, I'm merely moving a few yards away from the burning problem. I'll spend sometime on the issue of children using stones and hammers to break part old television units to recover the iron inside. I'll be writing a piece about this with a large collection of photographs hopefully by the end of the 2nd week of January 2020. So do check back to see if I have had the time to put it up.
Agbogbloshie is toxic and treacherous towards even those who would like to help. I have played around its darkest corners, and I'm happy to be gradually moving out alive.
I have hinted in some of my writings about what I thought were some of the ways to approach Agbogbloshie over the 1 year and a half I have spent documenting and collecting great amount of data on the open burning of electrical wires.
During this period, I have followed the collectors/scavengers throughout Accra to see the sources of the wires, and for my use, I have also traced the journeys of some of the copper wires from Agbogbloshie to the exit points. I have also collected great amount of air quality data around Agbogbloshie and beyond, to get a fair idea about what is happening.
I gave out a lot of particulate respirators and gas masks around Agbogbloshie to help minimize their exposure to particulate pollutants from the open burning of electrical wires and radial tires.
I tried my best to help whenever the 'burner boys' brought their personal problems to me. This included cash, food, medical costs, accommodation, etc. For what its worth, I'm happy to have helped.
The open burning of electrical wires for the copper materials inside bothers me so much due to the health risks it poses to Accra residents.
But I think you can say that I lost in the end, and the Government of Ghana and its partners have won. This problem persists and worse than it has ever been.
I meet new young people who had just arrived to begin life as 'burner boys' almost every time I go to Agbogbloshie. I have tried to tie this problem to Africa's bulging youth population, and one of the reasons why the Ghanaian Government and its partners should take another look at their strategy in tackling Agbogbloshie.
The health risks associated with the toxic smoke billowing out of Agbogbloshie every day have not obtained great attention in Ghana. One of the reasons why I'm not a fan of Ghana's media.
Ghana Government And Agbogbloshie
Prof. Kwabena Frimpong Boateng, Ghana's Minister for Environment, Science, Technology & Innovation, announced in a room packed full of journalists on July 2, 2019, that, the open burning of electrical wires was no longer a concern at Agbogbloshie as the inaugurated Agbogbloshie Technical Training Centre has managed to curb it.
He went on to caution the Ghanaian journalists present to ignore all images coming out of Agbogbloshie as they may have been unearthed from the archives to mischaracterize the situation.
Let me clarify this again — the minister's claim was not true in July 2019, and it is not true as of January 1, 2020, when this article published. The problem persist and has never been this worse (from all accounts).
I reacted to this both in the local media, here, and also in a blog post here.
Note that the Agbogbloshie Technical Training Centre, for now, trains the scrap workers on how to safely dismantle e-waste. I also heard that they train young women on how to make soap and other items including 'bofrott', a local snack. It's a training centre, and does not provide for whatever the minister claimed. Again, thanks to the German Government for this. For my part, I see the point. I hope it all works out in the end.
For me, the problem was not knowing what to say about the toxicity issues and the degraded human condition at Agbogbloshie, but to use some of the mediums I'm most familiar with — photography and the internet — to spread the word. I have sufficiently done this as the internet archives about Agbogbloshie will demonstrate.
I was able to quickly stop by and use photographs to prove that the local government's claims were false. This was important to me because the majority of the people who are most concerned about Agbogbloshie are non-Ghanaians living outside of Ghana, who may not be able to independently verify these claims. Taking recent photographs and posting them on the internet was a way to keep everyone updated about this situation.
A quick one about photos online. Unless otherwise stated, no photos on the internet are free. I'm actually no fan of watermarking photos as it diminishes their appeal, in my opinion. But I have had to start doing this to ward off online photo theft.
A lot of photographers cannot post some of their best works online out of fear they may be stolen and used without their permission.
I have had issues with some International organizations and Ghana's top media outlets going on one of my companies websites, steal photos, reuse, and caption them as 'file photo'. Some didn't even bother at all to credit them. They used them as if the photographs were their own.They always corrected this whenever my workers and I threatened them with a lawsuit. I mostly give them my permission to keep the photos (with credits), and advise them to reach out to me first next time to avoid such situations.
Photographers spend thousands of dollars on gears. Think about it, how would they pick up the next great lens if you steal their creative work without having to pay them? You are not entitled to reuse photographs you see on the internet. If you don't own the copyright to them, just look at them and move on.
Reach out to the copyright owners, and some of them wouldn't have a problem letting you use them for editorial purposes. I'm always happy to send the RAW files to organizations and media agencies who reach out to me on a photo they'd like to use for editorial. As long as you are not going to use the photos for profit, I'm always happy to help. I have given out a lot of photographs to the world for free and always happy to see them used.
Just stumbled upon these by the Harvard Business School (December 2019), Duke University, and the United Nations Association of Germany (Deutsche Gesellschaft für die Vereinten Nationen – DGVN – Jan 2020 ):
These were duly credited. I shot the first one (plastic pollution) with a mobile phone while walking along the coast on an October (2018) morning. I'm sure I'll find several hundreds of references and credits if I bother to look around. I was happy to give both photos, and more, for free to the world for everyone's use. So, always reach out to photographers about their work. Copying them from their website might land you into trouble.
Many thanks for tagging along. I hope my part in this has been helpful to anyone who cares about this situation.
And so ends this chapter.
Leave your comments and questions below, and I will try my best to answer them within 24 hours.
© 2020 Muntaka Chasant
Send your article to hello@muntaka.com to publish on MUNTAKA.COM. You must have a minimum of a Master's degree in the area of your subject, and the article must be properly sourced and referenced.
Sources