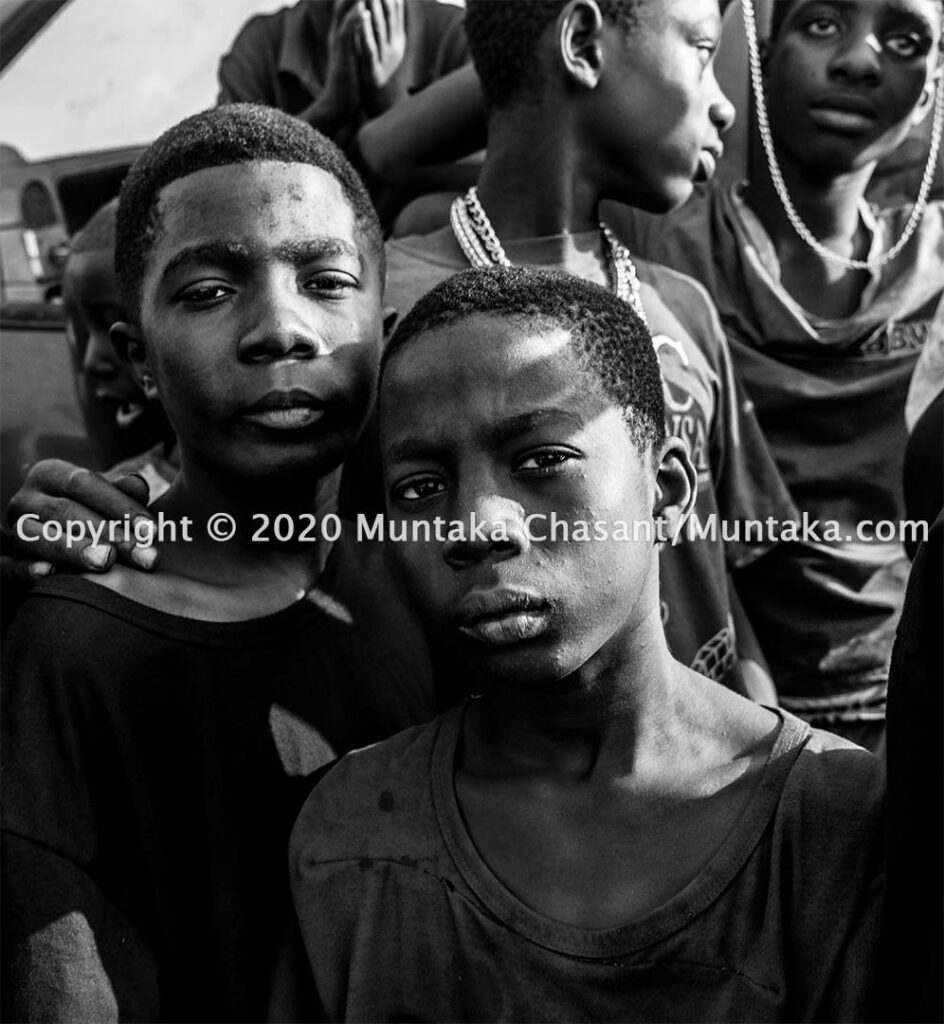 Wake Me Up When the 21st Century Ends
WARNING: This post contains very graphic images.
October 13, 2020
WARNING: Again, this page contains photographs that may be disturbing to some readers. Not the easiest photographs to look at, especially if you cannot stomach open wounds. But they have to stay up due to the nature of this subject.
---
These are raw and point-blank photographs of youth poverty and a tragedy that is slowly unfolding.
All the young people on this page were born in the 21st century (informs the title and actually not a Green Day parody) and they are spending their youth outdoors — in a cold, harsh urban environment.
Youth Poverty in Ghana
The youth bear the greatest burden of poverty in Ghana.
Lacking economic resources, a lot of young people in Ghana have withdrawn from social and civic life — to the fringes, where they engage in hazardous work.
According to Ghana's 2020 Multidimensional Poverty Index1, some members of the demographic cohorts (Generation Z & Alpha) on this page — aged 0-14 years — face the worst deprivations, including in areas of education, health, and living standards.
More than half of Ghana's population of 30 million people were born after 1995.
Ghana's Generation Z: What is Happening to Them?
The photographs below capture the daily grind of youth poverty in Ghana.
I take no pleasure in displaying them. In fact, they have kept me up many nights.
Have you ever come across the photograph above?
That's Benjamin Baidoo — 14 years old now.
I captured the scene in September 2019.
Benjamin is engaged in hazardous child labour. He spends his days cannibalizing from e-waste at Agbogbloshie in Accra — an area once listed alongside Chernobly2, the 1986 nuclear accident site in Ukraine.
Agbogbloshie is renowned for its severe heavy metals pollution.
I'm still in shock after a late September 2020 episode concerning Benjamin.
Let's rewind to a couple of weeks before the September 2020 incident.
Below, I stopped by to check up on the boys on August 17, 2020, as I do a few times every month:
Now to the incident.
While in the area on September 23rd, I found Benjamin sleeping and shaking uncontrollably on a scrap refrigerator.
The boys immediately told me he had been cut very badly by scrap metal. He woke up to show me his injured fingers wrapped in bandages.
Had a mobile phone — with a faulty camera (clearly) — in the pocket, so I grabbed this quick shot of him looking worn out:
Didn't look good to me, so gave out money to have him sent to a nearby clinic to have it checked although he told me it was examined the day before.
Shocked by this, I had people keep an eye on him throughout the next couple of days. I visited on September 28 to see how Benjamin was healing.
There, Benjamin had removed the bandages:
In fact, this did not slow down Benjamin as he went on to scavenge for scraps:
That's Benjamin and the 17-year-old Joseph Akwah. This is what they got when I checked back a few hours later:
With Benjamin healing his middle knuckles, Joseph went to work.
He was injured while manually dismantling a computer keyboard to recover the metal inside:
These are two photos of Joseph working a few months back:
Update: October 20, 2020

:
I visited to check up on the boys on October 19, 2020.
A quick update on Benjamin incase you are concerned (second from left below):
I have been documenting this situation for some time now. If this is your first time, the page in the link below explains this situation with photographs:
Related: Urban Outcasts: Children of Agbogbloshie
Urban Outcasts: Children of Agbogbloshie
Below is a quick look at some of the child labourer that were present during my visit on September 28, 2020.
Ibrahim Tanko, 11 years old E-waste Worker
I went in around 6:30 AM on September 28.
A lot of them, including the 11-year-old Tanko, sleep near the scrapyard. Some on cardboard sheets in the open.
Tanko lives on his own (as of October 2020) and survives through his wits on the streets.
He slept (as of October 2020) on a heap of second-hand clothes at June 4th (Kantamanto) — near Agbogbloshie.
"I'm bitten by mosquitos every day," Tanko said when I asked about his accommodation situation.
I found Tanko gambling that early in an area called 'ghetto'.
Tanko frequently pulled out reds — GH₵1.00 banknotes [around $0.17] — from his fanny pack.
An interesting makeshift 'roulette'.
Tanko and the others came out to have breakfast after losing money at the table:
Powdered milk, sugar, and warm water served in a disposable plastic cup.
In fact, Tanko's mother lives just nearby.
"My mother has recently given birth and lives with her boyfriend near the Kokomba market," Said Tanko,
"Tanko's mother's boyfriend hit Tanko hard in the head the last time he entered their room," Ayitey, one of the child labourers below, told me when I asked why Tanko doesn't go home.
Tanko himself told me that he won't be going back home.
He uses his bare hands and stones to dismantle e-waste to recover the precious metals inside. He also handpicks small pieces of metals in the soil around the area.
Elaborating on his dreams, Tanko said: "I would like to go to the USA to play football (soccer)."
When I asked why not stay and play it in Ghana, he added in Twi, a local dialect: "they don't play it very well in Ghana."
"Well…Ghana is more of a soccer country than the USA," I insisted.
"I still want to go to the USA. Life in Ghana is too tough!"
To hear an 11-year-old explain the realities of living out in the open and handpicking metals from an area once listed alongside a place such as Dzerzhinsk4, the Soviet-era chemical weapons manufacturing city, left me shattered.
Update: October 20, 2020

:
Visited to check up on them on October 19th and found that Tanko was cut by a subwoofer magnet he was using to recover metals in the soil around Agbogbloshie:
Tanko was shirtless when I first saw him on the morning of October 19, 2020.
He told me he did not have a shirt when I asked where his top was. When I asked how much it will cost to get him a new shirt, he responded: "GH₵1.00 [around $0.17]"
He immediately turned around and picked up the second-hand t-shirt he wears in the photos above.
I had him and Ankrah sent to a nearby clinic.
A few of the others present when I visited
Kweku Natus Frimpong, 12 years old
In case you are curious about what was going on behind Natus:
The men had been burning waste cables to recover copper materials. They also openly incinerate scrap tires for steel wires.
15-year-old Emmanuel Osei
A few from the past:
Kwadjo Esien, 14
Kwadjo slipped and fell on broken CRT glass while dismantling e-waste back in September. He appeared to be healing:
The harsh living conditions in Accra is tough enough — where people fight with each other for basic survival — but this is worse.
Are the scenes above a consequence of a corrupt society?
The Worst Forms of Child Labour in Ghana
Ghana has done very little to tackle the worst forms of child labour, according to the US Department of Labor's 2019 Findings5 on the Worst Forms of Child Labor.
Hazardous child labour in Ghana and Ivory Coast's cocoa-growing areas — 43%6 of children aged 5 and 17 — has gone up from 31% in 2008-09 to 45% in 2018-19 period, according to an October 2020 report7 by the University of Chicago.
Ghana and Ivory Coast produce more than half of the world's cocoa supply, says Fairtrade International8. The Washington Post9 adds that this output illegally relies on the sweat of more than 1 million children and benefits mainly the world's chocolate companies.
To make it worse, children from poor communities are now at a much greater risk of child labour than ever before due to the coronavirus pandemic.
Many developing countries, including Ghana, have made little progress in ending poverty.
Sorry, but 2030 is not realistic at all. Not from what a lot of us see on the ground.
Should we look to the later part of the 21st century?
That's a long way out.
If things do improve, can we converge back here on December 31, 2100, if we make it, and raise a glass to the past and say: "Wow, what a century!"?
Read more about the situation on this page in the links below:
Related: Urbanization And Child Labour
Related: Child Labour in Photos: Electronic Waste
Copyright © 2020 Muntaka Chasant