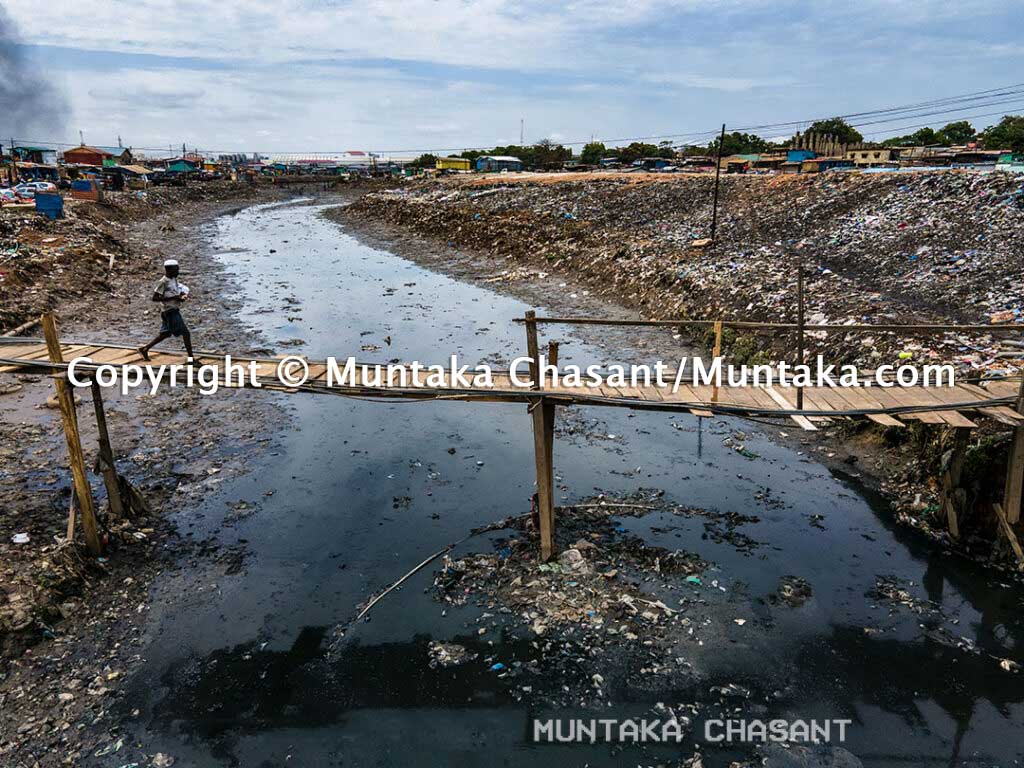 Sodom and Gomorrah, Ghana: Municipal Infrastructure and Local Resources
Thousands of urban poor use a precarious makeshift wooden bridge to cross from the densely populated nicknamed Sodom and Gomorrah informal settlement to the Jamestown area and Korle Bu, Ghana's premier healthcare facility. Video and photos, and a brief interview with the entrepreneur behind the bridge.
July 1, 2020
Thousands of urban poor use a precarious makeshift wooden bridge to cross from the densely populated nicknamed Sodom and Gomorrah informal settlement to the Jamestown area and Korle Bu, Ghana's premier healthcare facility. Video and photos, and a brief interview with the entrepreneur behind the bridge.
Basic services in areas where the urban poor live and work have a direct impact on their livelihood opportunities and potentials.
But access to infrastructure and services remain a distant dream for the millions of the urban poor who live in slums worldwide.
More than 1 billion people live in slums or informal settlements worldwide, with around 238 million in sub-Saharan Africa.1
Ghana's rapid urban population growth poses a real challenge for its urban municipalities.
Growing Demand For Basic Infrastructure in Ghana
Ghana is facing a crucial challenge as demand for basic infrastructure grows amid rapid urbanization and population growth.
Thousands of Ghana's urban poor lack access to clean water, sanitation and other basic services.
One of such communities that need basic infrastructure upgrade so badly is the Old Fadama informal settlement near the heart of Accra, the capital of Ghana.
Old Fadama, situated on the Korle Lagoon, is an infrastructure-poor area with an estimated 80,0002 residents.
This locational discrimination reflects the unjust geographies in Accra.
Using Local Resources To Improve Community Infrastructure
One minute video above: Shows how the urban poor use the Korle Norle makeshift wooden bridge to and from the Sodom and Gomorrah slum near the center of Accra.
---
To improve community services, local entrepreneurs are now getting involved in areas where spatial injustices persist by creating infrastructure facilities — in informal urban settlements such as Old Fadama.
Makeshift Wooden Bridge Across The Agbogbloshie Drain
With the increasing need to cross the Agbogbloshie drain to reach other communities, Yakubu Abukari constructed a wooden bridge to help Sodom and Gomorrah residents connect to Jamestown and Korle Bu, Ghana's premier healthcare facility.
Whenever you are around Korle Norle, the area near the wooden bridge, and you ask to see the community's 'chief,' don't be surprised if you are led to Yakubu.
"I'm the chief of Korle Norle," Yakubu was happy to introduce himself.
Here's a rough transcript of my interview with Yakubu:
Me: What do you do, Mr. Abukari?
Yakubu: I was a scrap dealer, but now owns a small joint where residents pay to watch European Football (soccer) Games. I also built the wooden bridge that links Korle Norle to Jamestown and the Korle Bu area.
Me: When did you construct the bridge, and why?
Yakubu: I built it around 2017. Other than my bridge and the one nearby, you'd have to go all the way to the Hansen Rd in order to find your way back again to reach Korle Bu. I wanted to connect my community to Korle Bu and the nearby areas.
---
Without the two bridges currently active across the Agbogbloshie drain, residents would have to go all the way to the Hansen Rd before coming back to use an unapproved route to the Korle Bu area — around 1.5 km to make their way around.
Having access to nearby areas and transportation is critical for their livelihoods.
This has several consequences — including unequal access to jobs and poor commuting experiences.
Compared to other regions, sub-Saharan Africa lagged behind3 in terms of the number of people having convenient access to public transport.
Here's Google satellite view of the area:
(Red lines illustrate the distance without the bridges)
This is how Yakubu's bridge helps:
Below is an aerial view of the bridge from afar:
(Bridge location is marked in red)
The bridge cut down their travel by less than a third of the distance (around 270 m) — helping them access nearby areas and public transport.
Me: The bridge doesn't look securely fixed. Why did you use wood?
Yakubu: I used wood because it was the cheapest. It cost me in total about GH¢6,000 (around $1,030) to put up the bridge in 2017. Using iron (like the sister bridge nearby) would cost me around GH¢17,000 (around $2,920).
Me: Do you know the estimated number of people who use this bridge every day?
Yakubu: Yes. Certainly more than 2,000. People from the Korle Bu area traveling to the Agbogbloshie Market (the largest open market in Accra) use this bridge. A lot of people inside the Old Fadama settlement, including city workers and students heading to Jamestown, and the Korle Bu area, use this bridge. It's a very important bridge in my community.
Me: What are some of the challenges you face during the rainy season?
Yakubu: The rain destroys the bridge almost every rainy season. We reconstruct it a few times every year.
Me: Do you think this bridge is all your community deserves?
Yakubu: Not many care about the welfare of the people here because only a few government officials enter this community. How would they know the state of this bridge if they do not enter?
Me: Would you want the public to support you to construct a much better bridge for your community?
Yakubu: Yes. An iron bridge like the one nearby would be great.
Bridge crossers pay a toll of GH¢0.20 (around $0.034).
Mr. Yakubu is burdened with having to reconstruct the bridge each time the rain washes it away.
Update: October, 2020
Part of the bridge came down in the second week of October 2020.
An amphibious dredger trying to make it way through the Agbogbloshie drain had to take apart the wooden bridge.
I happened to be around on the same day and grabbed these shots of men trying to fix the bridge and reconnect water pipes:
You can see the massive plastic waste.
Scores of crossers became stranded and had to walk roughly around 250 meters to use the second bridge nearby.
Mr. Abukari was not compensated. He used his own money to put the bridge back together.
Yakubu Abukari A Hero?
Let's face it.
The urban poor are here to stay.
The accelerated pace of urbanization in developing countries increases the incidence and proliferation of slums and informal settlements.
There's no doubt that informal settlements are shaping urban landscapes and environments.
But the majority of the bottom-of-the-pyramid households work and live in slums and informal settlements.
The Old Fadama area, for instance, provides affordable housing options for thousands of the poor who migrate to Accra in search of economic opportunities.
Urban natural increase is another factor. The fertility rate is still high in poor urban communities. So, developing cities may be growing not necessarily due to people flocking in from rural areas, but also as a result of internal growth.
Cities such as Accra may be growing without any improvement in standards of living.
Turning a blind eye to the situation inside slums — which affects equity and inclusion — only exacerbates poor living conditions.
Upgrading Ghana's urban slums could help to improve the living conditions of thousands of people.
Is Yakubu Abukari a hero to use his resources to develop an infrastructure facility to help his community? Yes, he makes some money, but that's beside the point.
It is absolutely not safe to use this wooden bridge. Especially not for children.
But could this be a model in response to the growing demand for infrastructure in developing countries?
Let me know in the comment section below.
Copyright © 2020 Muntaka Chasant
Sources
https://ghana.unfpa.org/en/news/reaching-underserved-unfpa-youth-fellows-organizes-outreach-old-fadama