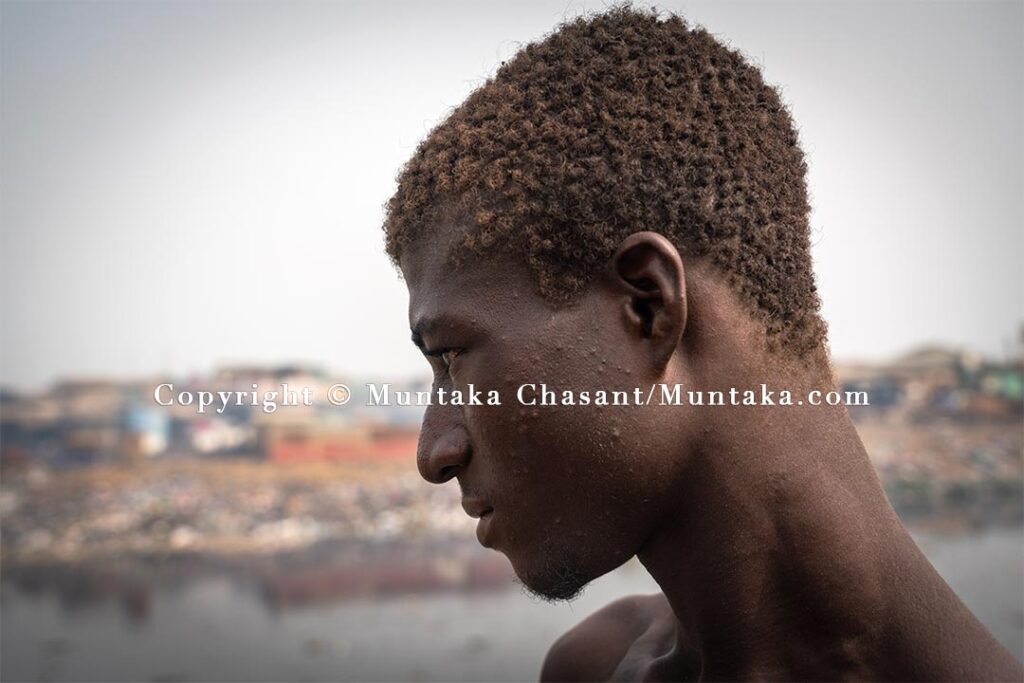 'I'd Never Come if I knew Life in Accra was Going to be this Tough'
Warning: This is a disturbing peek into the daily struggles of an urban poor man who had migrated to Accra, Ghana's capital city, in search of economic opportunities. Accra's harsh urban environment is taking a toll on the city's youth. To survive in the harsh urban setting, a lot of young people have resorted to […]
February 26, 2021
Warning: This is a disturbing peek into the daily struggles of an urban poor man who had migrated to Accra, Ghana's capital city, in search of economic opportunities. Accra's harsh urban environment is taking a toll on the city's youth. To survive in the harsh urban setting, a lot of young people have resorted to […]
Warning: This is a disturbing peek into the daily struggles of an urban poor man who had migrated to Accra, Ghana's capital city, in search of economic opportunities.
Accra's harsh urban environment is taking a toll on the city's youth.
To survive in the harsh urban setting, a lot of young people have resorted to hazardous work.
Eliah Kodom, 28 years old, had migrated to Accra from Nkoranza (near the center of Ghana) in search of job opportunities. It's been 4 years and he's homeless.
"I'd never come if I knew life in Accra was going to be this tough," said Kodom, looking sternly at the ground in a regretful way.
Kodom regularly swims in the Korle Lagoon to recover recyclable materials.
The Korle Lagoon1 is recognized as one of the most polluted water bodies on earth.
And Kodom couldn't have chosen the worst spot — he swam just by an Agbogbloshie e-waste dumpsite where e-waste components and broken CRT TV glass are discarded.
A lot of the discarded e-waste parts and broken glasses get washed into the lagoon during rainfall events.
And Kodom was barefooted.
I spotted Kodom from afar swimming in the Korle Lagoon — near the Agbogbloshie bridge — to recover recyclable plastics and cans.
I grabbed some shots of him from afar before going closer.
I then waited for him to come up from the Lagoon.
"All of this will earn me around GH₵7 (about $1.2)," he said, showing me what he had collected. Waste soda cans and high-density polyethylene (HDPE) plastics.
"The middlemen now have very little interest in polyethylene terephthalate (PET) plastics, so I go everywhere I can find cans and HDPE. I have been here [in Accra] for four (4) years now. What can I do? What can I do, eh?"
Kodom Walked through Broken CRT TV Glass Strewn E-waste Dumpsite Barefooted
Kodom had left his slippers near the Agbogbloshie bridge. He trod carefully through an area covered with discarded e-waste components and broken CRT TV glass.
Let's zoom in to check out where Kodom landed his feet:
Youth Poverty in Ghana
No young person anywhere in the world should have to engage in this hazardous work in order to buy food and clothes.
Make no mistake — I take no pleasure in these sort of scenes. I'm tormented by them.
I'm a part of this society. And capturing these urban realities is a way for me to convey the rough terrain of everyday struggles of people on the fringes of modern Ghana.
I do regularly intervene — financially — in these sorts of situations. But my resources are limited.
What else can I do, heh?
Copyright © 2021 Muntaka Chasant
Sources