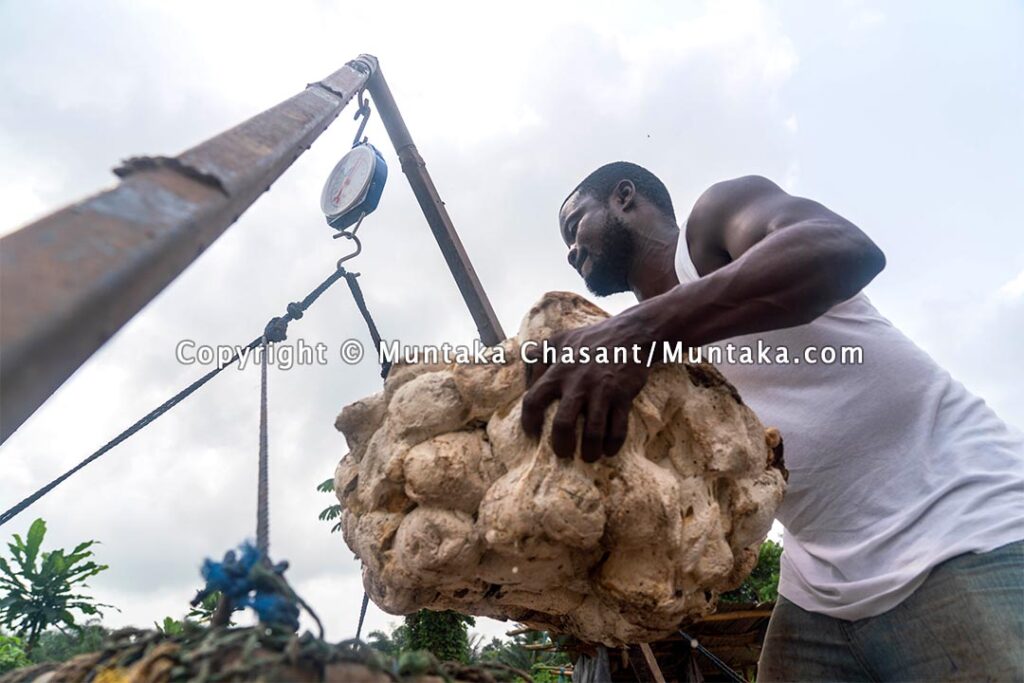 Natural Rubber (Latex) Middleman
After living in Accra — Ghana's capital city — for six years without any meaningful employment, Ebenezer Yankey, 28 years old, decided to go back to his hometown to try his hands on natural rubber (latex). Ebenezer is doing well and earns roughly around GH₵2,000 (about $350) per month — way more than the average […]
February 4, 2021
After living in Accra — Ghana's capital city — for six years without any meaningful employment, Ebenezer Yankey, 28 years old, decided to go back to his hometown to try his hands on natural rubber (latex). Ebenezer is doing well and earns roughly around GH₵2,000 (about $350) per month — way more than the average […]
After living in Accra — Ghana's capital city — for six years without any meaningful employment, Ebenezer Yankey, 28 years old, decided to go back to his hometown to try his hands on natural rubber (latex).
Ebenezer is doing well and earns roughly around GH₵2,000 (about $350) per month — way more than the average monthly income in Ghana.
"I buy natural rubber and resell it to processing companies. This earns me more than I ever did in Accra," Ebenezer explained, pointing to a pile of natural rubber being sun-dried.
Ebenezer has his stall set up at Dadwen — a village in the Western Region of Ghana — where he buys natural latex from rubber tappers. He has four workers and resells the natural rubber to processing companies for profit.
"I started with GH₵6000 (around $1000) in early 2020 and now have natural latex worth more than GH₵50,000 ($8,500) — thanks to the help of an investor."
Natural rubber sells at GH₵3.2 ($0.55) per kilo around Dadwen as of February 2021.
Life in Accra was tough.
Recounting the harsh living realities in Accra, teary Ebenezer added: "Life in Accra was tough, and I'm absolutely happy to be back here at Dadwen. I'll strongly advise young people living in difficult situations in the city to go back home and explore other opportunities."
Copyright © 2021 Muntaka Chasant