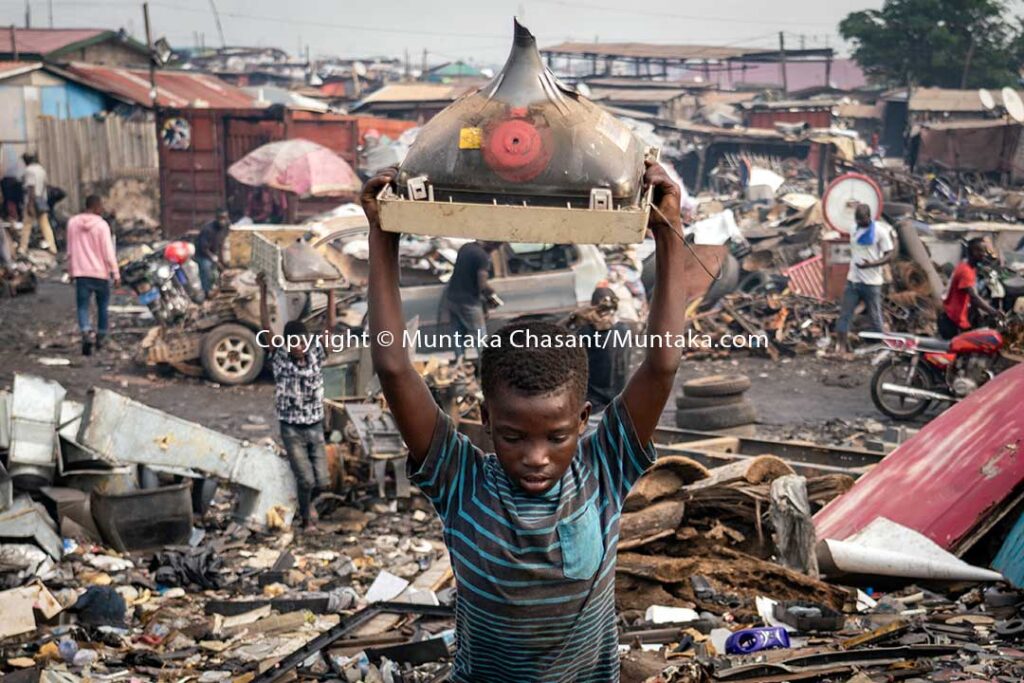 Child Labour in Photos: Electronic Waste
Note: The photos in this post are strictly for editorial/education purposes. Do not copy or share without my permission. All taken at Agbogbloshie in Accra, Ghana, the exploratory photos below offer insights into hazardous child labour and e-waste. Hazardous Child Labour Informal disposal and recycling of end-of-life electronics (e-waste ) may be poisoning a generation […]
May 20, 2020
Note: The photos in this post are strictly for editorial/education purposes. Do not copy or share without my permission. All taken at Agbogbloshie in Accra, Ghana, the exploratory photos below offer insights into hazardous child labour and e-waste. Hazardous Child Labour Informal disposal and recycling of end-of-life electronics (e-waste ) may be poisoning a generation […]
Note: The photos in this post are strictly for editorial/education purposes. Do not copy or share without my permission.
---
All taken at Agbogbloshie in Accra, Ghana, the exploratory photos below offer insights into hazardous child labour and e-waste.
Hazardous Child Labour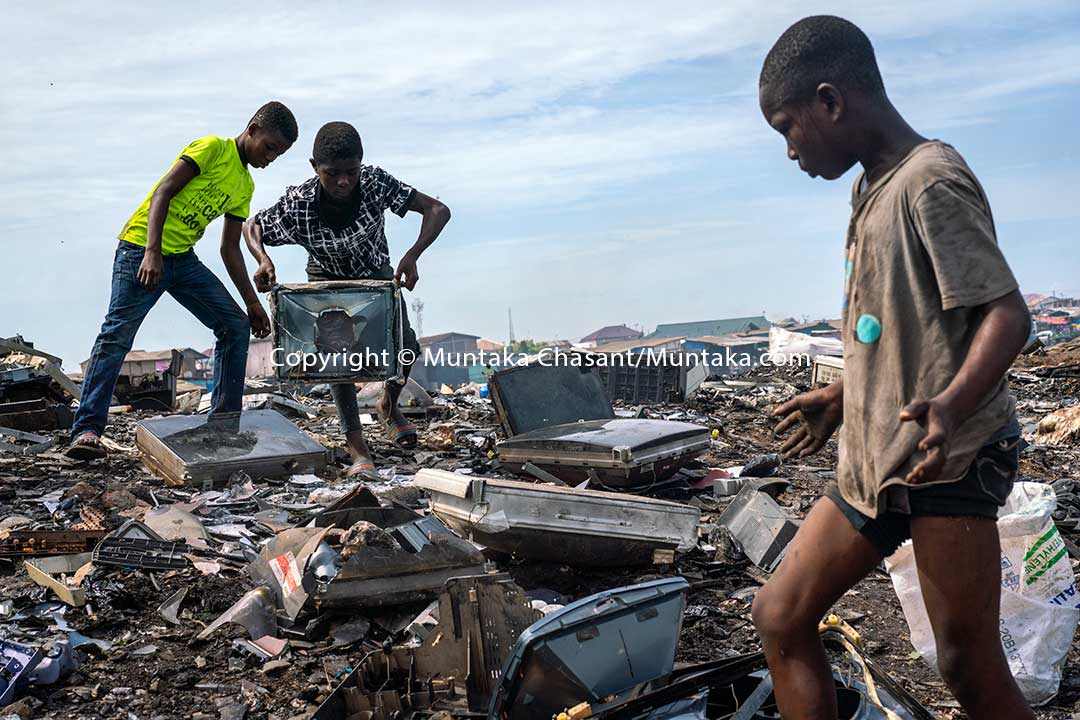 Informal disposal and recycling of end-of-life electronics (e-waste ) may be poisoning a generation of young people living on the margins of Accra, the capital of Ghana.
The scenes in this post are uncomfortable peek into their everyday urban life.
For food and the expectation to contribute to their household economy, they use their bare hands to cannibalize discarded e-waste for metals. They also sift through the dirt — using their fingers — to retrieve small pieces of metals buried under heavy metals-polluted soil.
This exposes them to heavy metals, including lead, mercury, and cadmium.
A study in 2013 found lead levels as high as 18,125 parts per million (ppm) in one of the soil samples collected from around Agbogbloshie.1 US EPA's recommended safe limits for lead in bare soil in children's play areas is 400 (parts per million) ppm and 1200 ppm for non-play areas.2
The Basel Action Network and the International Pollutants Elimination Network also found the highest levels of brominated and chlorinated dioxins ever measured in free-range chicken eggs in Agbogbloshie in a 2019 study3, fearing this may be contaminating Ghana's food chain.
The children engaged in hazardous child labour in this post are part of thousands of people who toil in the toxic environment at Agbogbloshie every day trying to salvage usable materials from the waste stream.
Kristen Grant and other researchers in a 2013 study published in The Lancet Global Health4 examined — 23 epidemiological studies — the association between exposure to e-waste and health outcomes from 1965 to 2012 in southeast China. They found outcomes associated with exposure to e-waste including reduced lung function, changes in cellular expression and function, stillbirths, miscarriage, and evidence of DNA damage.
What is Going on in the Photographs?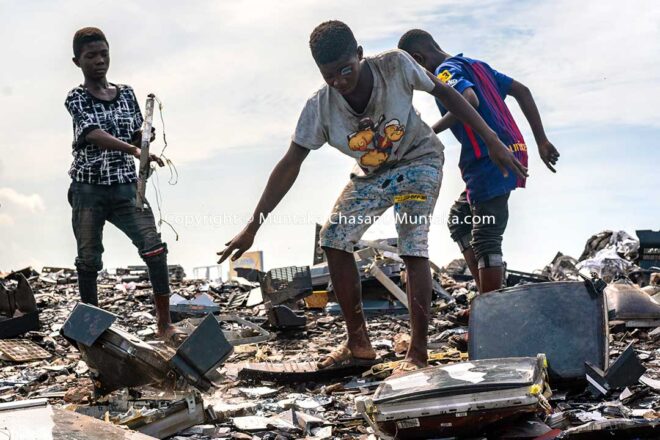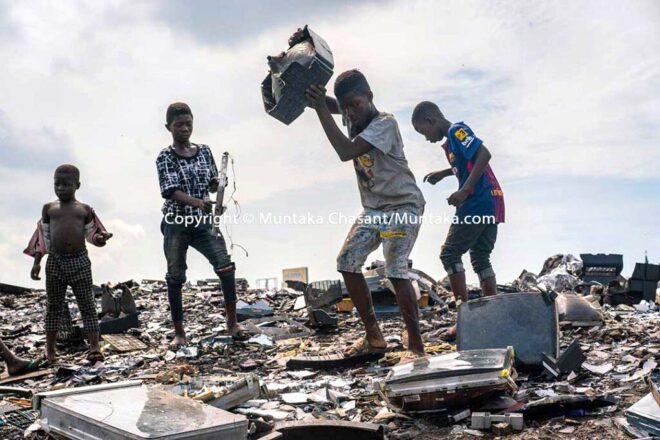 There's no doubt some end-of-life e-waste still make their way into Ghana, with some ending up at Agbogbloshie. But a significant chunk of the end-of-life e-waste ending up at Agbogbloshie is locally generated.
For me, where the e-waste is generated and how and where it is recycled is absolutely important. Not so much for where it was made. We can make the same argument for cars, leather shoes, and toothbrushes.
The Basel Convention allows for repair and reuse. A sizable number of the e-waste that makes their way into Ghana are repaired and reused. Not all Ghanaian households — with roughly around $2200 GDP per capita — can afford brand new LG or Samsung LED TVs.
There's a large market for e-waste in Ghana. For instance, some of the end-of-life cathode-ray tube (CRT) TVs and computer monitors on this page had been in Ghana for decades. They had been used by local households and businesses and had added value to the local economy before being cannibalized at Agbogbloshie.
Itinerant collectors pay a small fee for them from households and repair shops throughout Ghana. The collectors sell their goods to scrap dealers inside the Agbogbloshie Scrapyard and other places.
For the old CRT TVs, the interior parts are 'mined' for valuable components, including circuit boards and cables.
The lead-filled CRT funnel glasses part are then discarded on nearby e-waste dumpsites or left around for the children to pick up. These glasses are a waste for the scrap dealers. But for the urban poor children, the iron materials inside are a source of instant cash.
These once symbols of high-quality engineering are smashed against rocks and repeatedly hit with stones for the shadow mask and aperture grille (Sony Trinitron).
CRTs from old TVs and computer screens contain dangerous levels of toxic materials, including lead5, barium, and cadmium (in the phosphors)6 7, and are known to pose risks to human health and the environment.
CRT funnel glass contains around 22% of lead by weight8 9. Their recycling is heavily regulated in many countries, including the US10, where several States prohibit their disposal in municipal waste landfills11.
How Young People at Agbogbloshie Reclaim Iron Materials From Old CRT TVs
Weighing and Selling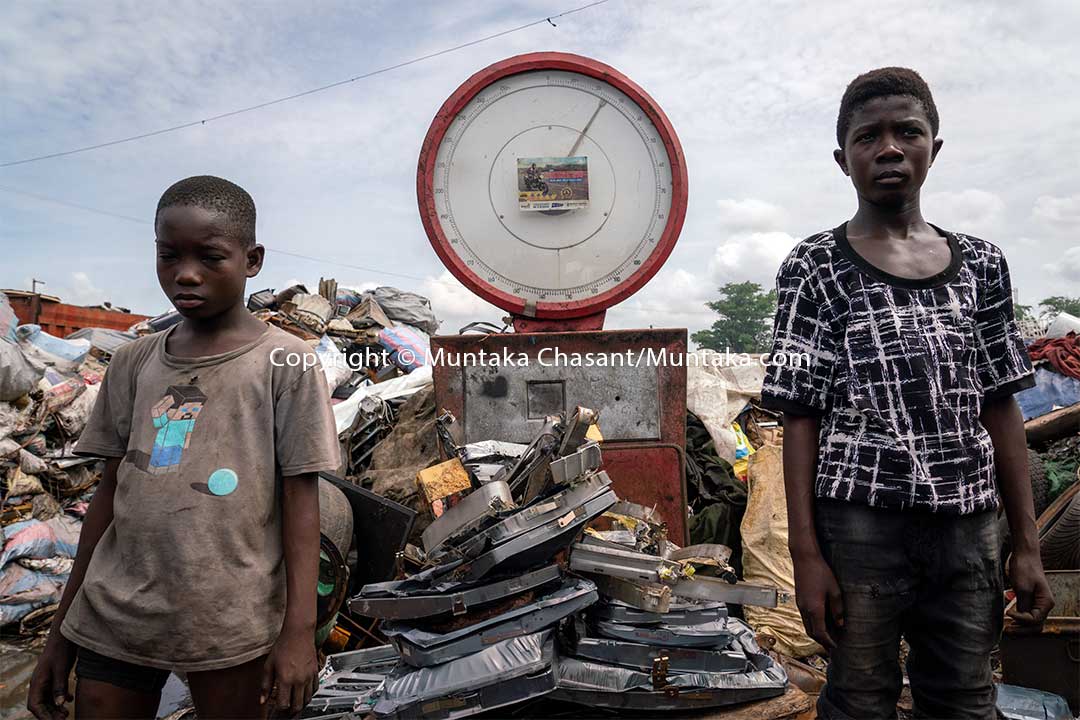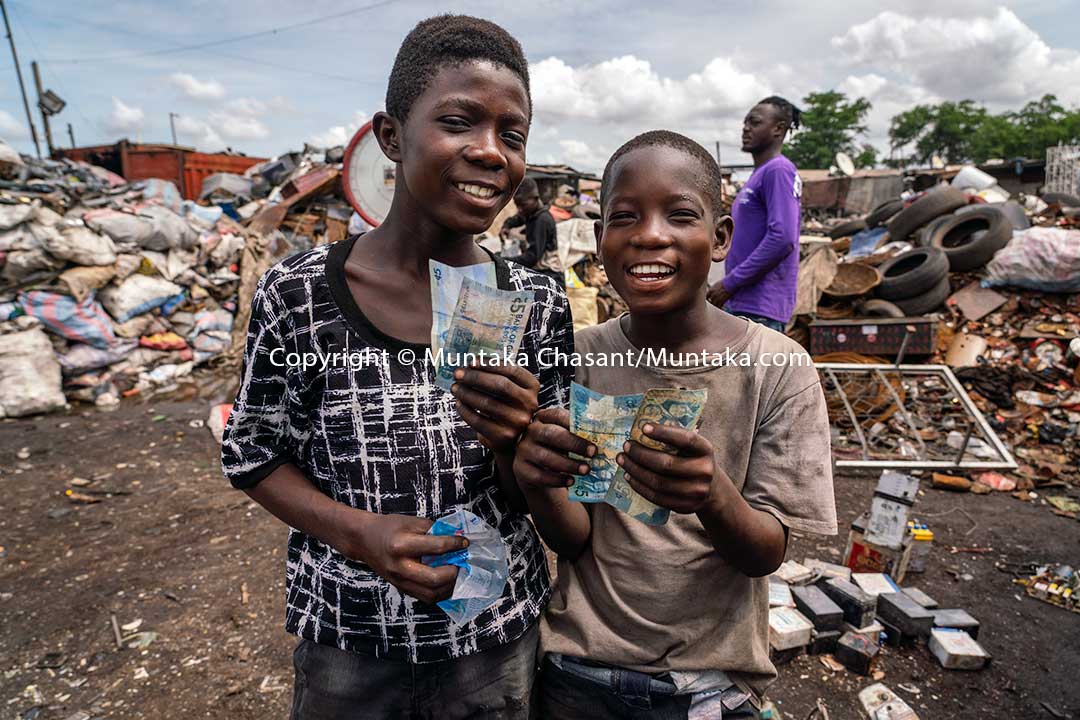 Mustafa and Osei's haul weighed 24 kg. Iron scrap sold at GH₵0.80 (around $0.15) per kilo in May 2020 at Agbogbloshie. Approximated, they made GH₵20 in total (around $3.45). Each took GH₵10 ($1.7) for the day's work.
Yes, that's all they got for the risk and exposure to lead and other heavy metals.
But Osei and Mustafa are happy. The $1.7 should get them some food and new sets of clothes for the day. They might even keep a change for their urban poor parents.
Here's a puzzle for you:
The iron materials now begin their journey.
Where do you think they are headed?
© 2020 Muntaka Chasant
Sources