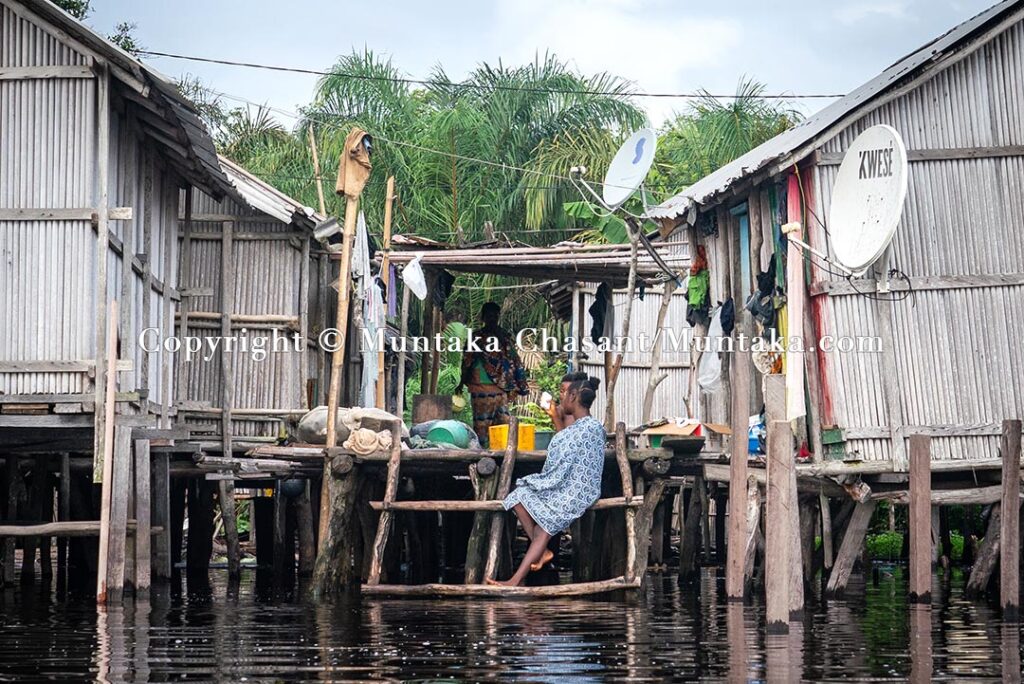 Visit Nzulezo (Nzulenzu) — But Read This
The cultural commodification of Nzulezo (Nzulenzu) challenges their traditional identity. As privileged tourists, gazing at the poor rural inhabitants of Nzulezo evokes cultural voyeurism, which fuels tensions between the stilt village, the nearby Beyin town, the local traditional council, and government agencies, who all want a share of your tourist dollars.
November 20, 2020
The cultural commodification of Nzulezo (Nzulenzu) challenges their traditional identity. As privileged tourists, gazing at the poor rural inhabitants of Nzulezo evokes cultural voyeurism, which fuels tensions between the stilt village, the nearby Beyin town, the local traditional council, and government agencies, who all want a share of your tourist dollars.
The people of Nzulezo as objects of curiosity for mass tourism is casting a shadow over their identity and culture.
Have you ever visited Nzulezo (or Nzulenzu)?
Were you surprised no one waved a hearty welcome to your motorboat or canoe?
Did you bump into half-naked women sponging themselves in the Amanzule Lake?
Contention: No one appears to puts on a show for the mass of gawking visitors to Nzulezo.
Authenticity seekers appear disappointed that the inhabitants of Nzulezo are not keen on being starred at as exotic objects as part of the scenery.
But their lack of interest towards you as a tourist is actually a silent protest — for receiving zero proceeds from your entrance fee to peer into their homes and invade their personal space.
History of Nzulezo
Home to roughly around 500 people, Nzulezo (meaning 'on the surface of water') is built on stilts on the edge of the Amanzule Lake in Jomora, a district in southwestern Ghana — more than 300km from the capital Accra.
There are about 100 raffia palm branches-built homes around the village.
The people of Nzulezo are mainly farmers and fishermen.
I had an audience with Nana Takrika VII (7th), the chief of the Nzulezo stilt village, and here is their story:
The 'god-like snail' led Migration South
Nana Takrika I (the 1st) migrated with his entourage from the Mali Empire in the 15th century to the forest across Lake Tandane (Amanzule Lake) after a local conflict that threatened his golden stool — the current chief told me.
"This exodus was under the guidance of a god that appeared in the form of a snail," Nana Takrika VII explained.
On how they permanently settled down in the area, the current Takrika further explained: "It was actually Munga, Takrika's linguist out and about, who discovered the present site of the village."
Further justifying why his ancestors settled down around the area, Nana Takrika VII added: "It was a perfect hiding place for our clan back then — should our enemies track us down. In the past, no one would know our community was hidden here until we disclosed our presence."
As a sanctuary, the current Takrika does make an interesting point, given the location of the village.
Nzulezo, Tourism, and Covid-19
While around the Ellembelle coastline working on a research project, I stopped by briefly to check out Nzulezo (further west).
To find out some of the challenges they face
How COVID-19 has impacted this tourist village
I immediately felt I was intruding into their privacy the moment I stepped out of the boat.
Bumped into an adult male taking a bath in the open and a grown-up woman half-naked sponging herself in the Amanzule Lake.
This was a very serious intrusion into their personal space.
Probing further made me upset about how this little village was being exploited for mass tourism.
Nzulezo is a microcosm of the everyday grinding poverty in rural Ghana. Electricity, yes, but no running water. They swim and drink from the Amanzule Lake.
Noticing I was clearly assessing the situation around, a group of adult women eagerly announced as I walked past: "Ekom na ku yen! Ekom na ku yen!!" implied: "We are hungry! We are hungry!!"
How very sad.
Nzulezo is a magnet for curious visitors.
But the natives who spoke to me admitted that the tourist traffic indeed invades their personal space.
Some of them no longer have the urge to pose in holidaymakers' photos as entrance fees to violate their privacy do not trickle down to their pockets.
I engaged the locals to understand how they feel about privileged foreign and Ghanaian visitors coming to stare and photograph them/ take selfies with them in the background in their kitchen/ sitting by the doorway. They were aversed to it, particularly with tourism normalizing this type of gaze.
However, some locals do benefit — and they want you to visit.
Those who benefit include motorboat operators, tour guides, artisans, and vendors who rely on tourist traffic.
Nzulezo Artisan & Motorboat operators hit by Covid-19
The economy of Nzulezo — which relies on tourist traffic — is badly affected by the pandemic.
Mr. Ezuah below is an artisan and relies on tourist traffic to sell his crafts, but tourism at Nzulezo has been massively affected by the coronavirus.
"I sold a dozen of my crafts every day before the pandemic. Coronavirus is really bad for my family and me. Only a handful of people now come here," worried Mr. Ezuah lamented.
He hardly gets tourists to pick up even 2 in a day these days.
---
It's the same story for James Adeabah, 40 years old.
Mr Adeabah is a motorboat operator at the Nzulezo stilt settlement. His livelihoods depend on the flow of tourist traffic. But things have been bad for him for most of 2020 due to the coronavirus pandemic.
Both Ghanaians and non-Ghanaians rent his boat to cross the Amanzule wetland to the Nzulezo stilt settlement.
"2020 has been a terrible year for me. I'll be lucky if I get one person in a day at all. Around ten people per day was the norm around this time last year," he said.
It costs GH¢70 (around $12) for a solo visitor to use Mr. Adeabah's motorboat for a round trip to Nzulezo.
Mr. Adeabah has six children. You can see why he wants you to visit.
You have heard from two of the people who benefit from tourist traffic. What happens to the rest of the hundreds of the natives of Nzulezo?
Nzulezo, A Harmless Cultural Voyeurism?
Cultural tourism helps to foster awareness of indigenous people.
But how do you measure the success of such crowded tourism?
I haven't thought much about it, but would you call it a success if the natives do not care about the presence of tourists?
Why are the Natives of Nzulezo Perceived As Not Tourist Friendly?
There's much to desire about the unique lifestyle of the natives of Nzulezo, yes. And it may seem like some kind of harmless voyeuristic exercise to visit for photo ops.
But minimal tourist-host interactions could be leading to the "zooification"1 of the people of Nzulezo.
Not to directly likened Nzulezo to a human zoo, but how would you feel being put on display at a price every day? And hordes of strangers peer into your home and take selfies with you in the background in your kitchen cooking without your permission?
Nzulezo is not designed as a tourist site, so visitors are naturally intruders. Your visit may be constructed as an invasion into their personal space — especially when the majority of them get zero benefits from your visit.
There are accounts of some of the natives asking the guides to tell visitors not to photograph them. Some even reprimand the guides after tourists leave.
Authenticity is constructed, and short-time visitors may only experience 'staged authenticity' of their host community. Thrill-seekers should be familiar with this concept.
Your visit may be well-intentioned, but the inhabitants of Nzulezo lose a piece of their dignity each time you do.
Remember — the people of Nzulezo are not the problem here. We, the 'intruders,' are.
But I Paid To Visit — What Happened to the Money and Who Benefits?
Ethnic tourism is popular worldwide and may be positive for economic, social, and cultural development.2 But that is the hardest part for Nzulezo.
The guides, who are mostly natives, motorboat operators, artisans, and the vendors do earn from tourist visits, but those are just a handful of people.
The majority do not directly benefit at all from your visit.
Your tourist dollars do benefit some people, but the majority are not natives of Nzulezo.
According to my source, a 2020 arrangement now allocates 20% of proceeds from all entrance fees to the village.
And no, this money is not distributed among the people. "We don't get even a bottle of Coca Cola from this arrangement," a native told me.
The chief, however, personally gets 5%, with the rest going into a 'development fund' for repairs and other miscellaneous activities around the village.
The rest of the 80% goes to the nearby town (Beyin), the local traditional council, the municipal assembly, and Ghana Tourism Authority.
Entrance fees (as of 2020) to see Nzulezo are GH¢20 (around $3.5) for Ghanaians and GH¢50($8.6) for non-Ghanaian.
Is the Swamp To and From Nzulezo The Most Interesting Part?
It was for me.
Our motorboat plotted a course through a narrow artificial creek that opened out into the Amanzule Wetland. And then the scene above appeared.
For me, the Nzulezo stilt settlement itself is not particularly picturesque.
But the Amanzule wetland and the lake view is worth the visit — if you must.
Nzulezo Stilt Homes
A household offered for me to photograph their room. I would normally decline, but I thought this would satisfy the curiosity of potential tourists — to see that the people of Nzulezo are normal people like everyone everywhere.
A few more of the structures:
What Do You Think?
The people of Nzulezo clearly have nothing to be proud of despite the tourist traffic. Not even a medical facility.
If you ask me, I'd say visiting Nzulezo to stare at and photograph the people in their homes, children and women taking a bath, etc., is not worth the moral cost.
Copyright © 2020 Muntaka Chasant
Sources
Mowforth, M., & Munt, I. (2003). Tourism and sustainability: Development and new tourism in the Third World (2nd ed.). New York: Routledge.