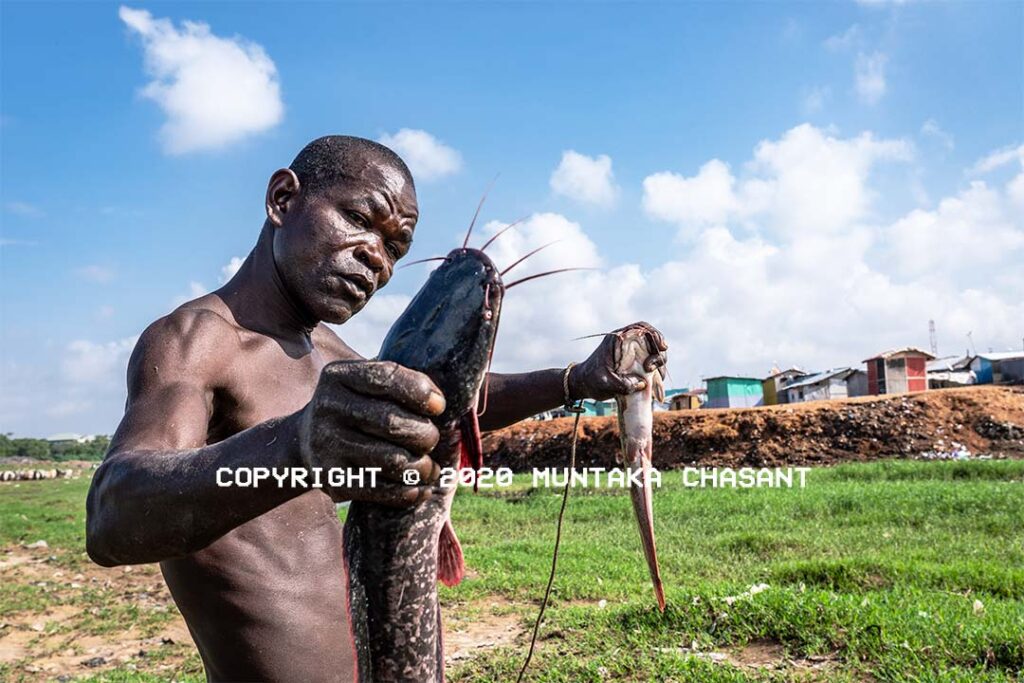 Man Fishes In The Korle Lagoon Due To Plastic Pollution At Sea
The eastern tropical Atlantic ocean is filled with so much plastic debris that a poor Ghanaian fisherman had no choice but to remain ashore to fish in one of the most polluted water bodies on earth instead.
July 6, 2020
The plastic water bottles and shopping bags you use and dispose of within a short period are turning up in fishing nets and destroying the livelihoods of fishers who rely on the ocean as a source of jobs and food.
It can take up to 450 years1 for the plastic bottles you use for just a short period and casually throw way to breakdown in the environment.
The average working lifespan of a plastic bag, for instance, is just 15 minutes.2 Is it worth it for such a short-lived product to linger in the environment for decades?
Marine Pollution Threatens Livelihoods
Marine pollution is causing some poor fishers to move inland, to fish in known contaminated water bodies such as the Korle Lagoon — near the center of Accra, Ghana's capital city.
I ran into Nii Aryee, a 54-year-old urban poor man, throwing his net into the Korle Lagoon — a few yards from where wastewater from the Korle Bu teaching hospital, Ghana's premier healthcare facility, empties into the lagoon.
Not too far from the area locally nicknamed 'Lavender Hill' due to foul smell from the lagoon and untreated fecal waste directly emptied into the ocean.
The unpleasant smell around 'Lavender Hill' doesn't seem to have subsided even though the city has constructed a plant to tackle the discharge of fecal waste into the ocean.
What Nii called 'mad' fish looked like catfish, an important animal protein source in Ghana. Probably mudfish as he couldn't tell if he meant a 'mentally-ill' fish or not. Although I was willing to accept that a fish species found in the Korle Lagoon is nicknamed 'mad' fish.
When I asked why he was fishing in the contaminated water, this is what he said (see the video below):
To cut it short: he fishes in the Korle Lagoon because half of what he catches when he goes out to sea is plastic debris. He's now moving inland to find a catch. He needs this so badly to feed his 7 children.
"I have been fishing around here for more than 40 years. It's a disaster what this place has become. Here used to be a big fishing village, where a lot of people gather to trade. But now, when it rains, all the rubbish from Accra reaches the beach," the angry native fisherman man lamented.
Nii is tired of the plastic waste coming from the hinterlands.
He then 'instructed' me to convey a simple message to my urban compatriots: "we are tired of it, please stop sending your rubbish to the sea!"
Nii is tired of the plastic waste coming from Accra. He has 'instructed' me to convey a message to my urban compatriots: "we are tired of it, please stop sending your rubbish to the sea!"
He told me stories of how the Korle Lagoon vicinity looked like more than 40 years ago, how he depended on it, and how it turned out the way it is today.
Once a source of abundant fish, intensive land use and pollution have destroyed the Korle Lagoon.
"Enyɛ fine! enyɛ fine!!" he stressed.
Translated from Twi: "It's not ok! It's not ok!!"
Nii was fishing around here:
(Location is marked in red)
Why is Fishing In The Korle Lagoon A Concern?
A study3 in 2007 identified the Korle Lagoon as one of the most polluted water bodies on earth.
Fed by the Odaw River, the Korle Lagoon collects wastewater and all kinds of debris, including solid waste from Accra's polluted waterways.
Accra's major drainage systems empty their waste into the ocean through the Korle Lagoon.
The area the urban poor man was fishing is approximately 1.5 km away from the Gulf of Guinea, the northeasternmost part of the tropical Atlantic Ocean.
Factories, households, and the nearby Korle Bu Teaching Hospital (including mortuary wastewater4) all discharge their effluent into the lagoon.
Households and settlements along the lagoon also openly defecate near and into the lagoon.
"We frequently see human remains floating around here," a resident pointing to an area near where Nii was fishing told me.
Threats to aquatic organisms due to the proximity5 6 of Agbogbloshie e-waste disposal sites to the Korle Lagoon is another major concern.
RELATED: Agbogbloshie: Questions & Answers
This is how plastics from all over Accra flow into the Korle Lagoon during a rainfall event:
Discarded e-waste parts and plastic cases by the lagoon:
Urban poor men burn waste cables to recover copper in the rain along the lagoon. This releases heavy metals into the Korle:
A man about to dump e-waste near the lagoon:
The man was fishing in less than a kilometer away from the area I shot the scene in this shocking video below:
Whenever the 'mad' fish are too far out in the Korle itself, he will turn around and throw his net into a marshy area (a few feet away) that had received water from the lagoon.
"When it rains, the water overflows over the edges and deposit some of the 'mad' fish into this side," the Korle Lagoon-fishing urban poor man told me.
Curious, I kept him company to see what comes out.
There, caught one and some plastic debris:
He told me he sells the fish between GH¢5 (around $0.85 in mid-2020) and GH¢20 ($3.5).
"Oh, they buy all before I even cross the street," Nii assured me.
Nii lives at the nearby Korle Gonno.
I have confirmed from several Sodom and Gomorrah residents, and indeed fishing in the Korle Lagoon around that area is commonplace. Some fishermen even go close to the Agbogbloshie waste cables burning area (photo above).
They were surprised I found it odd. A resident even confronted me, called me 'kurasini' meaning, a 'villager,' and threatened to assault me if I don't mind my own business. Nii defended me and threatened to kick the young man's ass if he tries.
"The fishermen come around here to fish usually after a rainfall event. I won't eat fish from the Korle. We see dead human bodies floating on it all the time. The fish probably feed on them," a Sodom and Gomorrah residents commented.
Update: Late October 2020
I stumbled upon another 'fishing in the Korle Lagoon' episode in late October 2020.
Man had been trying for about 5 hours without a catch:
Frustrated, he packed up and headed south:
He saw a ripple and what appeared to be a fish in the Korle Lagoon:
He was ready to cast his net should the ripples reappear again:
This left me extremely sad throughout the day.
Plastic Pollution and Fisheries
More people are engaged in fisheries and aquaculture in Africa than in the Americas, Europe and Oceania combined.7
Around 39 million people worldwide are in the fisheries sector alone (excluding aquaculture).
To be fair, fishermen are big polluters of the ocean themselves.
More than half a million tonnes — every year — of lost and abandoned fishing nets, lines and traps make up the majority of the large plastic pollution in the ocean, according to Greenpeace8. This phenomenon is known as "ghost gear," and makes up around 10% of ocean plastic pollution.
It may take fishing lines around 600 years to breakdown in the environment. Roughly around 450 for disposable diapers and 20 years for plastic bags.9
Plastic Pollution: What is The Way Forward?
Neglect and laissez-faire attitude won't solve the plastic crisis, especially in poorer countries.
Recycling is promising — yes. But certainly not the answer as the reclaimed materials inevitably end up either in the landfill or in the ocean.
Only 9% of the plastics produced between 1950 and 2015 have been recycled.10 The majority were accumulated in landfills.
So no, we can't recycle ourselves out of the plastic problem.
Don't take this the wrong way. It is the only way many people who genuinely care can help as it sends a powerful message, but beach cleanups do very little to change the problem at the source. The majority of the plastics sink to the seafloor, and manufacturers continue to respond to consumer demands for plastics.
It's simple: produce fewer plastics and encourage reuse.
People in Ghana, for instance, perceive piped water as contaminated or unsafe, fueling the use of bottled and sachet water. Why not make piped water at least as safe as sachet water and encourage locals to switch?
Read more plastic pollution facts in the link below:
RELATED: Plastic Pollution in Ghana: Video and Photos
Do you regularly consume fish caught in the Korle Lagoon?
How are you helping to tackle the plastic waste crisis?
I love to read your thoughts in the comment section below.
Copyright © 2020 Muntaka Chasant