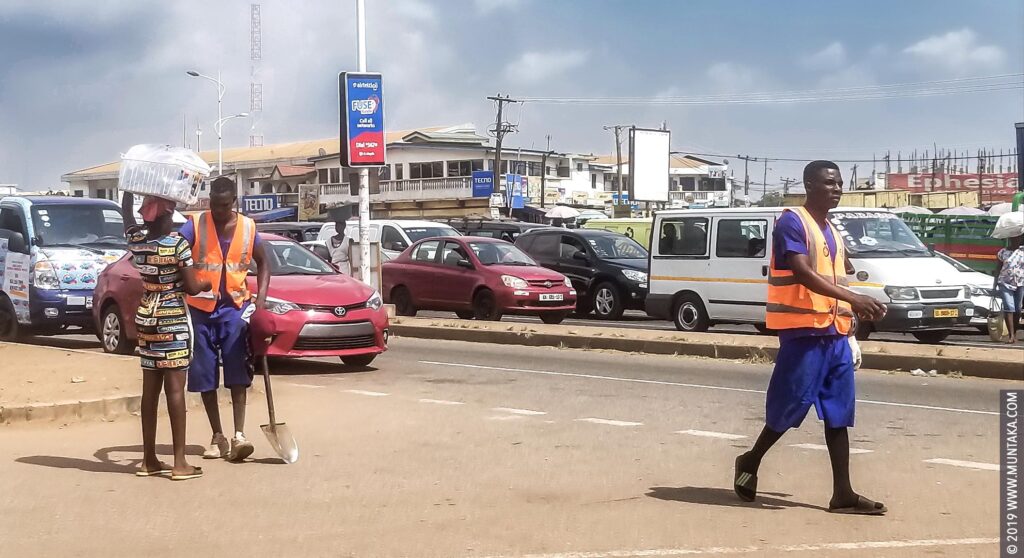 Cutlass-Wielding Prisoners Beg For Money on the Streets of Accra, Ghana
Is it OK if society gives prisoners cutlasses and shovels and let them loose on the street to panhandle for money?
December 15, 2019
Is it OK if society gives prisoners cutlasses and shovels and let them loose on the street to panhandle for money?
Ghana prisoners wearing orange safety vests on top of their blue uniforms — with Ghana Prisons Service and Zoomlion's logos pronounced on them — are frequently let loose on the street to hassle drivers and pedestrians for money while wielding cutlasses and shovels.
This situation seems somewhat incongruent with the theory of incapacitation (that removing offenders from society take away their ability to reoffend again), in the context that offenders being let loose on society in this manner by Ghana Prison Service — clearly not properly supervised — may be able to commit crimes in some other way.
I can't seem to find any moral or theoretical explanation for this. This is a new low, even for a developing country like Ghana.
Here is a candid shot of one I caught through my side-view mirror wielding a cutlass and moving between cars begging for money at the Okponglo traffic light on December 3, 2019.
---
I apologize for the low quality grainy photos in this article. These were shot with a Samsung S8 Active (12 MP with a 4.25mm rear focal length) with some zoomed all the way in through the side-mirror view. I didn't want any confrontation so had to be as discreet as possible.
---
Imagine you were the judge who sentenced the man in the photo above to prison. What would be your reaction if he pops up at your side wielding a cutlass and starts begging you for money?
What is Going On?
If you have driven on the N4 past the Pantang Junction traffic lights towards the Tetteh Quarshie roundabout in the past couple of months, there's a small chance you might have run into blue-uniformed prisoners weeding and sweeping — with cutlasses and shovels (for cutting and removing grass) — and moving between cars in traffic panhandling for money in the full glare of their supervisors.
I have been kicking myself about this for sometime now.
While waiting for a green light at Madina Zongo Junction on December 13, 2019, one of the prisoners approached me from the side and threatened me after I had waved as a gesture to indicate I did not have any money.
He kept on rambling, but I couldn't hear him because my windows were up. I rolled halfway down, and wow, this is what he said (translated from Twi—a local dialect):
"So, I'm a prisoner, begging you for money, and you are telling me you do not have any and I should go away? Just be careful…," he angrily continued.
I rolled up quickly. Didn't let him complete his sentence as I didn't want any prolonged contact.
I cannot imagine what life looks like for them in Ghana's prisons, but this is unsettling. No one should ever feel threatened by a panhandling prisoner.
The prisoner flipped because I gestured to him (by waving a bye-bye) that I didn't have any money for him.
What Was My Reaction?
I was really hoping to stay away from the situation, but I just couldn't. I needed to warn others to be on the lookout for aggressive prisoners wielding cutlasses and shovels panhandling for money on the street.
I drove about 300 meters ahead, parked, and headed back to the spot where two of them were still hassling drivers and pedestrians, to get a few photos.
To avoid any physical confrontation, I used the street photography technique of pretending to be checking something out on your phone while taking shots of your surroundings to grab a few shots of them going up and down.
One of them even bought a knock-off baseball cap.
What Action Did I take After?
To confirm a hypothesis I had formed in my head about this whole affair, I moved a little further away to sample some thoughts on this situation.
Three pedestrians (early 20s to mid-40s) agreed to talk to me.
And my suspicions were correct — all of them said this was OK and the shovel & cutlass-wielding prisoners panhandling for money on the street did not bother them at all.
Left the scene and quickly called Ghana Prisons Service headquarters. No one in authority was available to speak (3:07 PM GMT December 13, 2019). The person on the line advised, "their supervisors are always around, so you should have gone to them."
True, I spotted what appeared to be their supervisor having a chat under a shed nearby (in a brown uniform).
See the red arrow in the photo below. That's where I possibly spotted the supervisor.
Likely Explanation For The Panhandling Ghana Prisoners?
Let me help you a little here to connect some dots.
A terribly kept area, Madina Zongo junction is just concrete, dirt, and people walking about.
If these guys were stationed there, then chances are they were using the shovels to clear the street dirt (yes, shovels!).
In any case, as you can see, they were not working, but panhandling while their supervisor nearby looked on. Would be worse if he wasn't watching them, right?
Starting to sense that something doesn't add up?
Could we be looking at Warden Samuel Norton in the Shawshank Redemption kind of situation here?
I got the sense they were desperate as if they were trying to meet a quota — by quickly moving between cars and people.
Whatever it is that is going on, people deemed by society to have had a very serious lapse in judgment, hence needed to be reformed, should not be wielding cutlasses and moving between cars and people begging for money.
I hope Ghana Prisons Service put an end to this before something irreversibly terrible happens.
Leave your comment below and let me know what you think about this situation.
© 2019 Muntaka Chasant