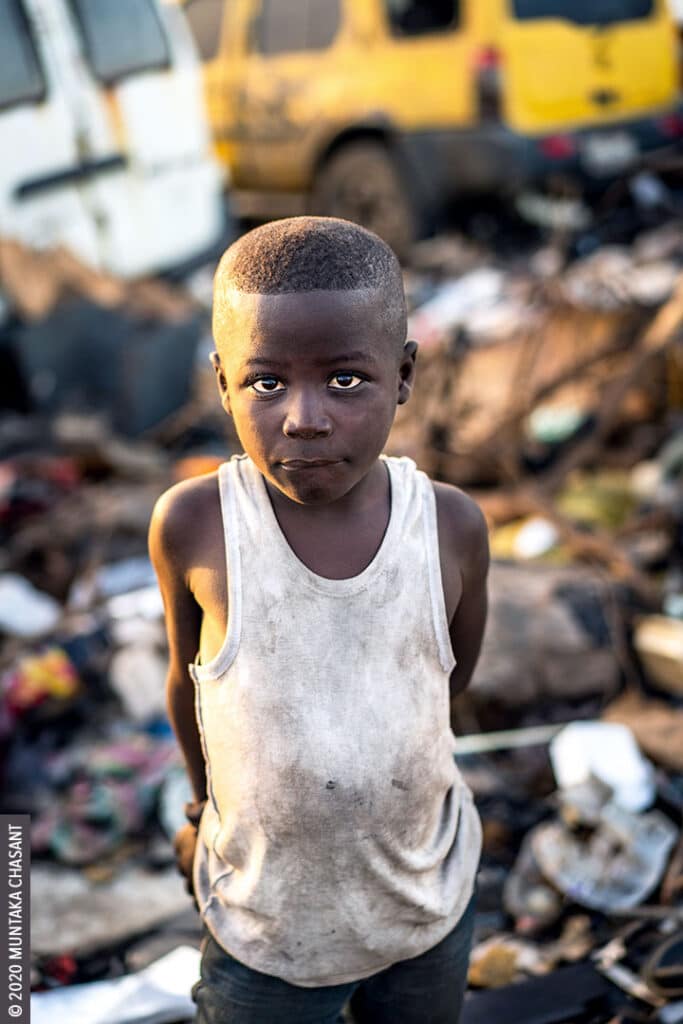 Child Labour in Ghana: Meet 8-Year-Old 'Akufo-Addo'
Nicknamed after Ghana's current president, the 8 years old 'Akufo-Addo' is engaged in hazardous child labour on the margins of Accra, Ghana's capital city. See how he navigates the fringes of Agbogbloshie, an area once listed alongside Chernobyl and Dzershinsk.
May 7, 2020
What a weary time those years were — to have the desire and the need to live but not the ability.

Charles Bukowski, Ham on Rye
'Akufo-Addo' is an 8-year-old deprived urban child engaged in hazardous work on the margins of Accra, Ghana's capital city. He cannibalizes from discarded e-waste and uses his bare hands to sift through the soil to gather metals on the fringes of Agbogbloshie.
Born Kevin Twum Barimah, he is nicknamed 'Akufo Addo,' after Ghana's current president due to their uncanny resemblance.
Akufo-Addo regularly makes just enough to live through the day. For food, clothes, and hands over the rest of the money to his mother, an urban poor.
But this 8-year-old who actively contributes to his household's economy is exposed to dangerous levels of heavy metals — including lead, arsenic, mercury, chromium, and cadmium — as he navigates the underside of Agbogbloshie.
It's the age of urban mining — the new frontier in mineral exploitation.
Akufo-Addo and several other children are trying to maintain a niche in this fast cash informal sector. But the cost is just too high for society to ignore.
I have documented this hazardous child labour situation at Agbogbloshie. See the article below for details and more photographs.
Hazardous Child Labour At Agbogbloshie, Ghana
I caught up with Akufo-Addo just when he was about to call it a day after several hours of scavenging.
Akufo-Addo usually goes out with a sack around mid-morning after he had used his hands, stones, and hammers to break apart cathode-ray tube (CRT)-based TVs for the iron/nickel alloy materials inside. He usually returns late afternoon to sell his treasures.
Akufo-Addo is vulnerable to several environmental hazards, but the accumulation of anthropogenic heavy metals in the soil around Agbogbloshie ranks the highest.
Jack Caranavos1 of New York University and other researchers in 2013 found lead levels as high as 18,125 parts per million (ppm) in one of the soil samples they collected from around Agbogbloshie.
US EPA's recommended standard for lead in bare soil in non-play areas is 1,200 ppm.2
Exposure to lead is particularly harmful to children3 as it could lead to serious lifelong neurological impairments, including decreased intelligence4.
A study5 in 2013 examined lead exposure in blood lead levels of 69 children and adolescents (1 month – 17 years) involved in the open burning of electrical wires on the outskirts of Montevideo, Uruguay. Burning wires for the copper materials inside was the source of lead exposure in 28.9% of the sample, but the manual gathering of metals was 63.8% source of lead exposure in more than 66% of the children, the study found.
Boys aged 8-9 years living in an e-waste recycling area had a lower forced vital capacity than those in a control town, a 2013 study6 published in The Lancet Global Health has found.
Akufo-Addo and children like the 7-year-old Kwadwo Michael below use their bare hands to sift through the soil to retrieve metals at Agbogbloshie. They also use their hands, stones, and hammers to break part end-of-life CRT TVs to recover the iron/nickel alloy materials (shadow mask and aperture grille) inside.
Manually gathering metals and using bare hands and stones to break apart old computer monitors and CRT TVs are a major source of lead and cadmium exposure among children in chronic poverty around Agbogbloshie.
Breathing cadmium-contaminated air7 over long-term can cause severe lungs damage and kidney disease in both children and adults. Exposure to arsenic can also impair brain development in children and cause cancers8 in adults.
Aside from old CRT TVs as a source, cadmium is also released into the air at Agbogbloshie during the open burning of waste cables to recover the copper materials inside.
Like this:
Pure Earth and Green Cross Switzerland in 20139 rated Agbogbloshie among the world's top 10 most toxic environments, along with Chernobyl, the 1986 nuclear accident site in Ukraine, and Dzershinsk, Soviet-era chemical weapons manufacturing city.
Child Labour in Ghana Statistics
More than 24% of children aged 15-14 in Ghana are involved in forced labour, including in fishing and cocoa harvesting, according to the 2018 US Department of Labour's report on the worst forms of child labour in Ghana10).
Child labour in Ivory Coast and Ghana's cocoa growing areas has risen sharply from 31% in 2008-09 to 45% in 2018-19 period, according to an October 2020 report from the University of Chicago.11
The United Nations Children's Fund (UNICEF) 12estimates that around 21% (nearly 2 million) of children in Ghana between 5 and 17 years are in child labour and 14% are in hazardous work.
The minimum age for hazardous work in Ghana is 18, according to Section 91 of Ghana's Children's Act (560).
Around 19 million children below the age of 12 years are in hazardous child labour worldwide, the International Labour Organization (ILO)13statistics show.
Article 3 (d) of the ILO Convention concerning the Prohibition and Immediate Action for the Elimination of the Worst Forms of Child Labour, 1999 (No. 182) defines hazardous child labour as "work which, by its nature or the circumstances in which it is carried out, is likely to harm the health, safety or morals of children."
Children growing up in impoverished environments such as Agbogbloshie often lack adequate nutrition, shelter, education, access to healthcare, and basic sanitation.
A 2020 report by Ghana's National Development Planning Commission14 paints a grim picture of child poverty in Ghana — with 62.5% of urban children between 0-17 years being multidimensionally poor (including lack of nutrition, basic sanitation, healthcare, and protection).
What Are The Causes of Hazardous Child Labour At Agbogbloshie?
Food, clothes, and children expected to contribute to the household economy are some of the leading drivers of hazardous child labour around Agbogbloshie.
Food, clothes, and children expected to contribute to the household economy are some of the leading drivers of hazardous child labour around Agbogbloshie.
Many of the children I have interviewed come from female-headed urban households. Their parents had escaped rural hunger and poverty to urban areas in search of economic opportunities. But Accra's harsh urban life is far worse.
While education in Ghana is free from kindergarten through senior high school, these urban poor households cannot even afford to pay for school uniforms and other fees that are required before their children can enroll.
Enrollment rate exceeding capacity in urban schools, inequalities in educational infrastructure, and lack of basic sanitation facilities may also be pushing many poor urban children onto the streets, making them vulnerable to hazardous child labour.
Akufo-Addo Weighs His Treasures At Agbogbloshie
Donning a greasy wife-beater undershirt, it's the time now for Akufo-Addo to weigh his wares to see how he managed for the day.
What's happening?
Just 1.5 kilo?
A kilo of scrap metals sold for GH₵0.80 (around $0.15) at Agbogbloshie in May 2020.
My heart sunk, but not before Akufo-Addo thought he could do more to change his situation.
Tears started to form in my eyes when I saw him stare sternly at the ground, hoping to find more metals to help balance the scale for a much higher payout.
Found something? We will see.
Still at around 1.5 kilo.
"Looks to me like it's time to sell out," I thought to myself.
Akufo-Addo finally sold out. Let's see what he's getting this time.
Just GH₵1.60 (around $0.30).
For all the many hours of scavenging? Exposure to heavy metals?
Life Goes On For Akufo-Addo
Disappointed but not discouraged, he moved on to hang out with other child labourers on a nearby e-waste dumpsite.
See Akufo-Addo from another time in the link and photographs below:
RELATED: A Child Labour Scene
Akufo-Addo from another time.
Akufo-Addo Laughing
Article 7 (a & d) of the Worst Forms of Child Labour Convention, 1999 (No. 182) demands countries to prevent the engagement of children in hazardous work and to "identify and reach out to children at special risk."15 Akufo-Addo and several other children fall within this category.
Should his nickname attract the attention of the real Akufo-Addo — Ghana's current President — to move quickly to save Agbogbloshie's children from this hazardous child labour? Forward this page to him, and let's see what happens.
© 2020 Muntaka Chasant