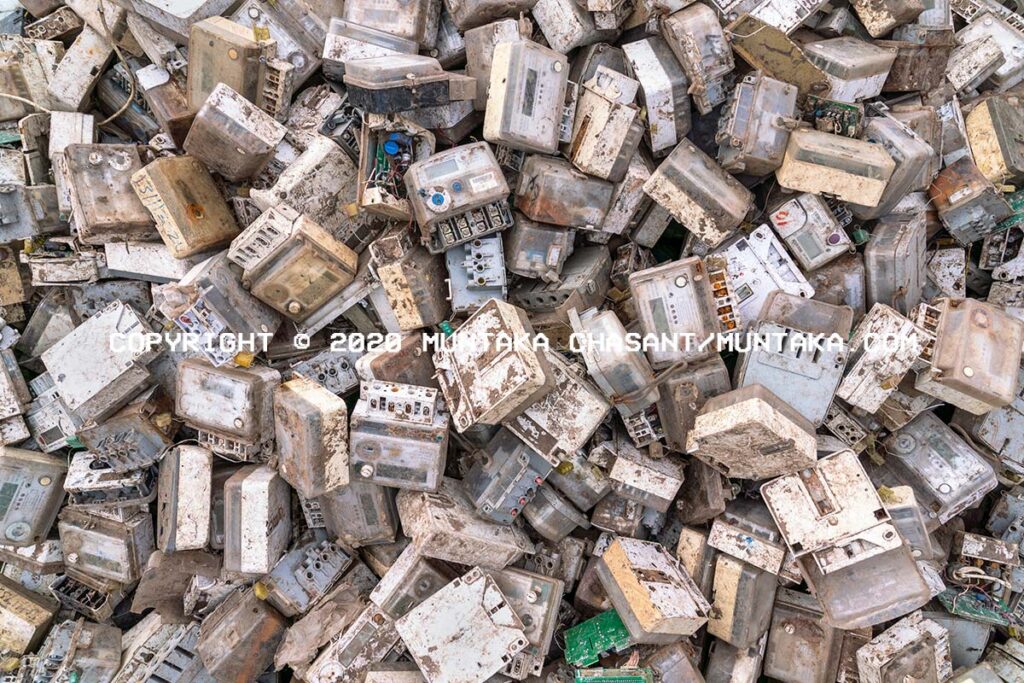 Agbogbloshie E-waste: Electric Meters, Transformers and Copper
Agbogbloshie is Ghana's largest e-waste graveyard. Even Ghana's electricity distribution company's energy meters end up there.
August 1, 2020
Agbogbloshie is Ghana's largest e-waste graveyard. Even Ghana's electricity distribution company's energy meters end up there.
As an urban mining site, the Agbogbloshie scrapyard helps to maximize the economic value of end-of-life electronics in the waste stream. This recovery of secondary resources is a major source of livelihood for thousands of urban poor around Agbogbloshie.
However, Agbogbloshie has gained worldwide notoriety for the open burning of waste cables, auto parts, etc. mainly for copper, which pollutes the soil, the nearby Korle Lagoon, and contaminates Accra's (the capital city) air.
The toxicity levels cast a shadow over the area, having earned it a spot among the worst polluted places on earth1.
There has been a lot of false finger-pointing over Agbogbloshie in the last decade.
But it is important to stress that the majority of the e-waste that ends up at Agbogbloshie are generated by people in Ghana — such as the electricity energy meters below.
Electricity Company of Ghana Electric Meter Scrap
I scratched my head when I saw the ECG post and prepaid electric meter scrap below.
These were government properties — under the Electricity Company of Ghana (ECG). ECG is a state-owned electricity distribution company.
My electric meter reads: "Property of the Electricity Company of Ghana."
ECG certainly has a decommissioning plan (would be surprised if they didn't have one). And I'm certain it doe not include these energy meters being recycled in a manner that exposes urban poor recyclers, including children2, to hazardous substances.
The unwanted parts end up in one of the e-waste dumpsites scattered across the scrapyard.
ECG assembles some of their electric meters in Ghana. They import certain designs.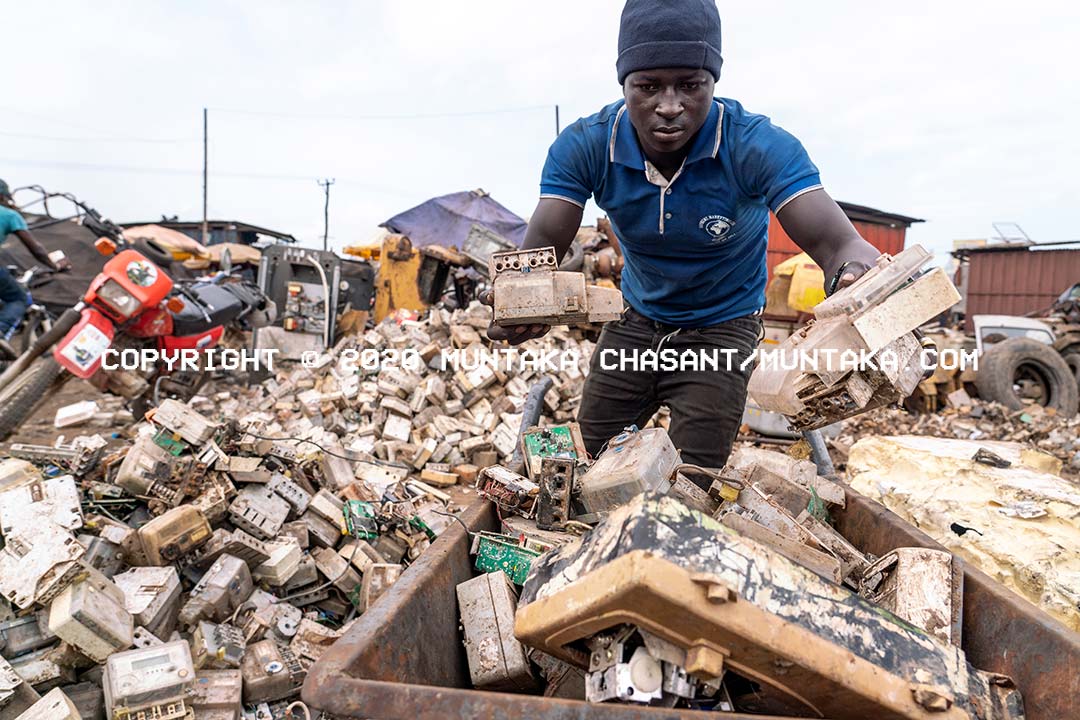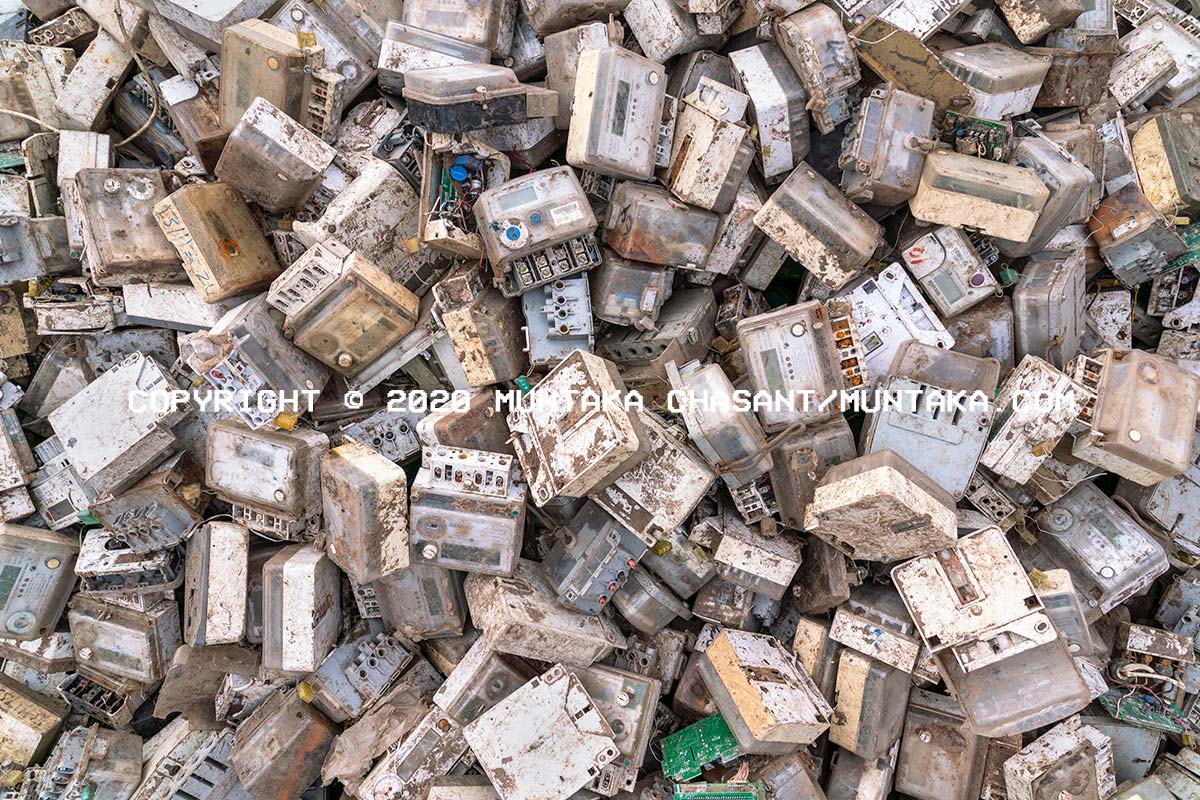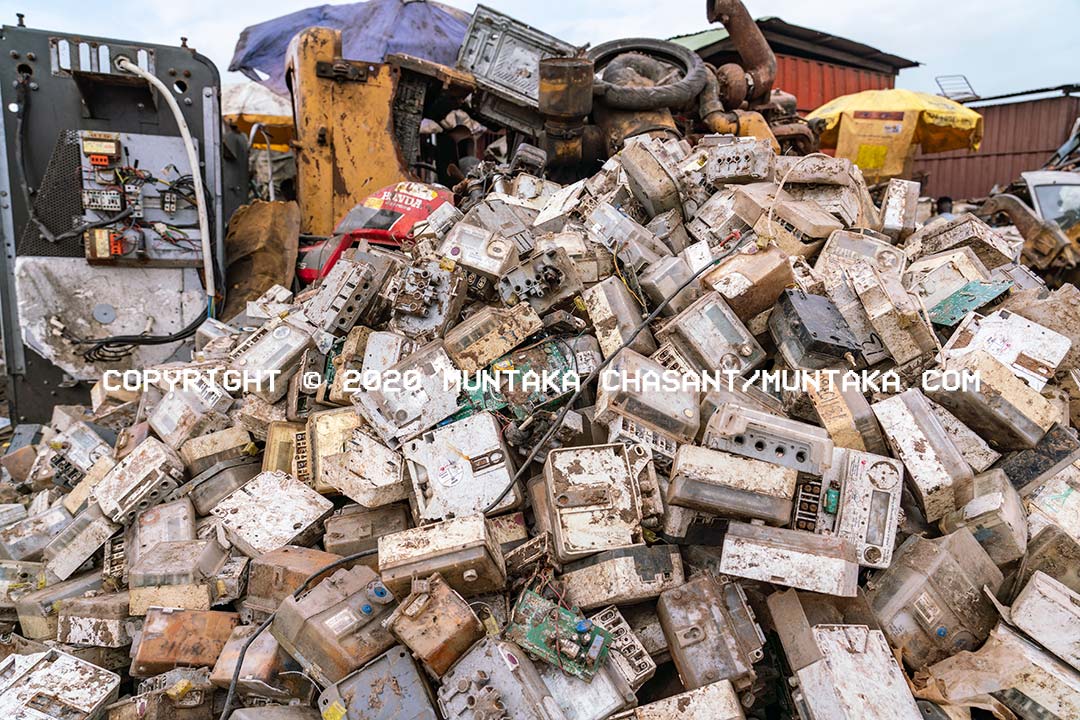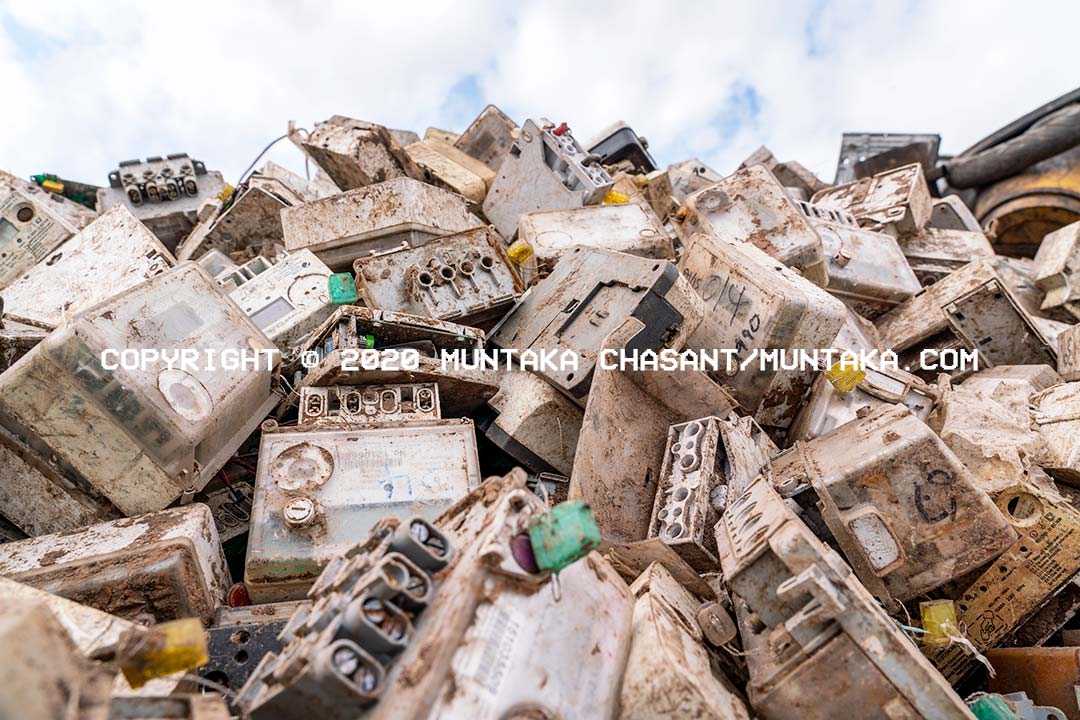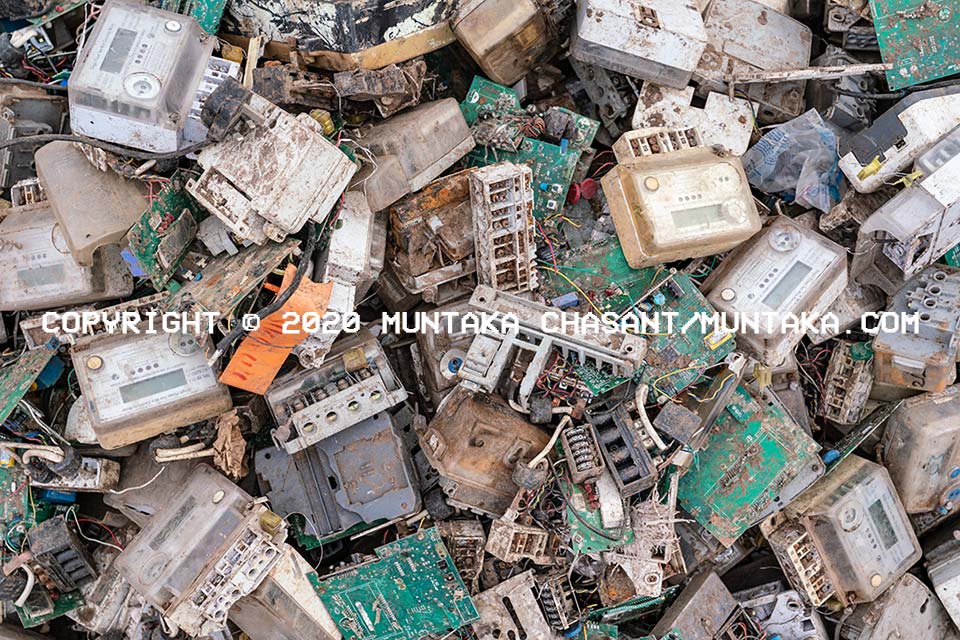 Agbogbloshie Remains A Toxic Threat in 2020
Agbogbloshie urban miners use scrap tires and styrofoam packing as fuel to openly incinerate waste cables, armature, and other copper-embedded items to reclaim the copper materials inside.
The open burning poses a serious public health threat. Yet, the Government of Ghana has done very little to tackle this problem.
Ghana's EPA announced on July 7, 20203, that they would prosecute people who burn waste cables and other e-waste components. A welcoming, but confusing pronouncement.
To show that open incineration continues unabated, I went out on July 17, 2020, to grab some aerial footage. In fact, none of the burners boys had even heard of Ghana's EPA's threat.
The waste cables in the short video above came from local sources — including auto repair shops, households, electrical contractors, etc. Wiring harness is also removed from end-of-life electronics and incinerated for the copper materials inside.
Urban miners sometimes haul the wires on a wheelbarrow like this:
And incinerated like this:
How Agbogbloshie Urban Miners Recover Copper From Electronic Transformers
Agbogbloshie urban miners do not always use open burning to reclaim copper.
For salvaged electronic transformers, this is how they do it: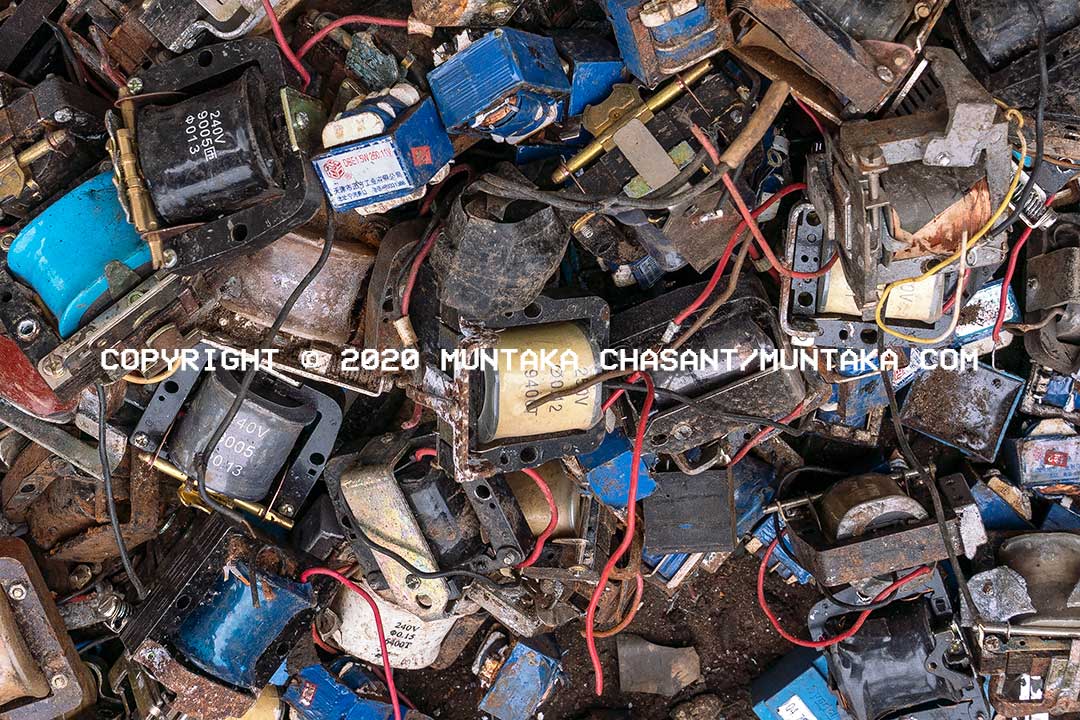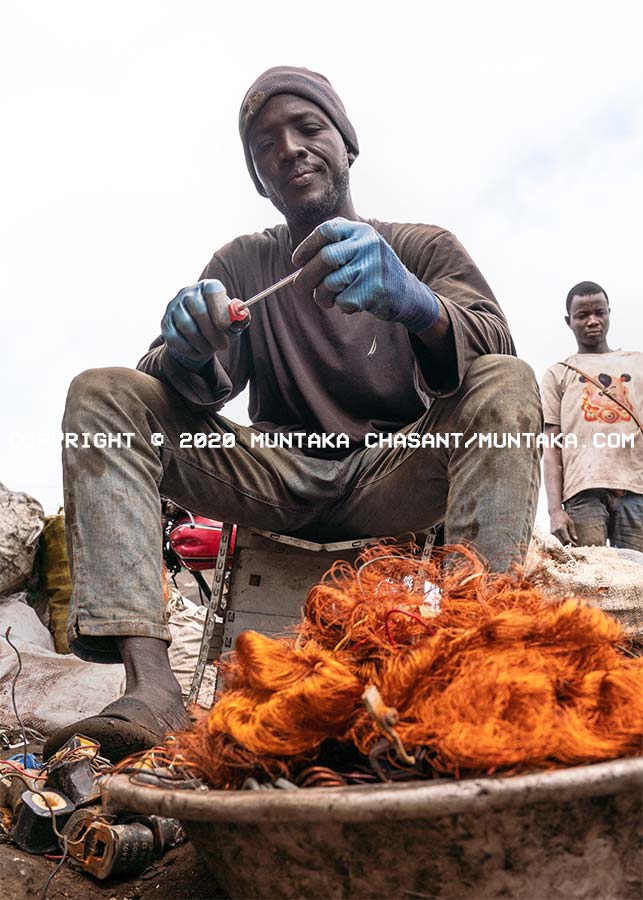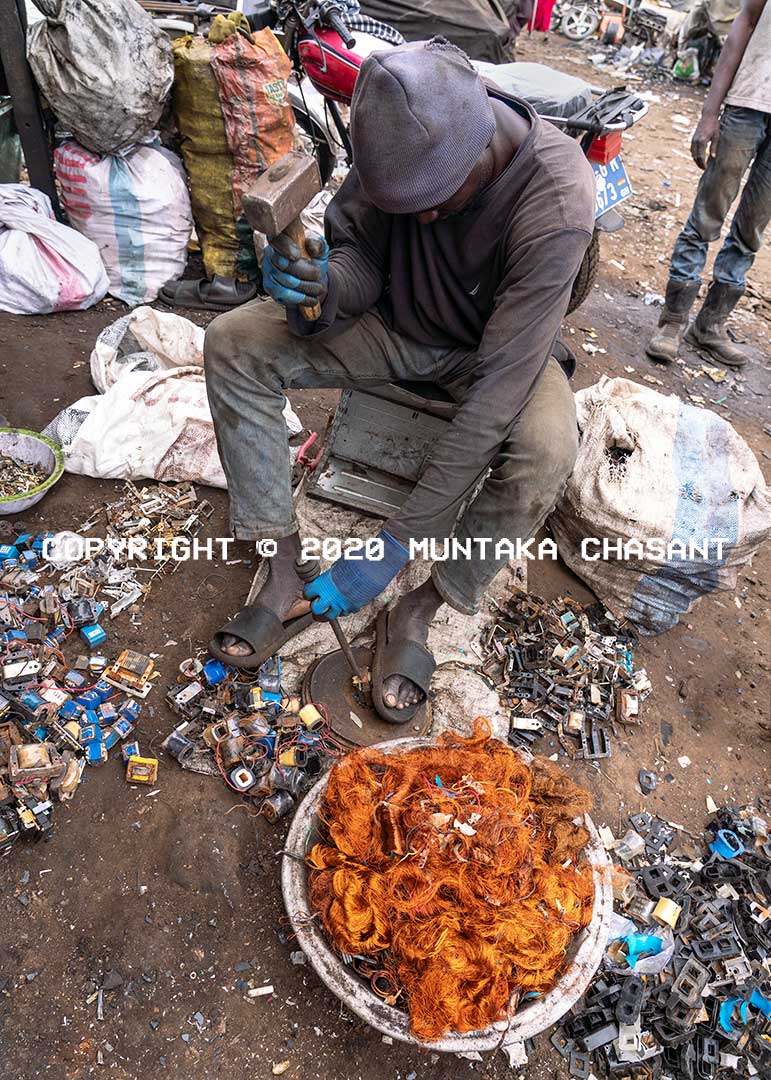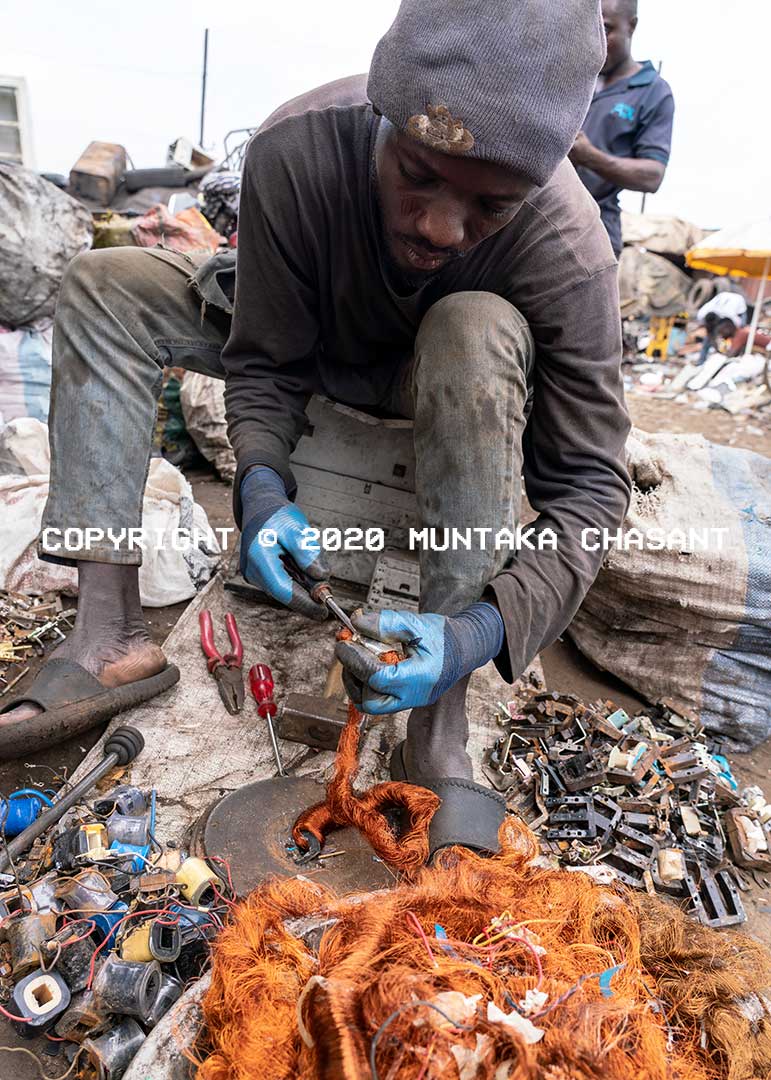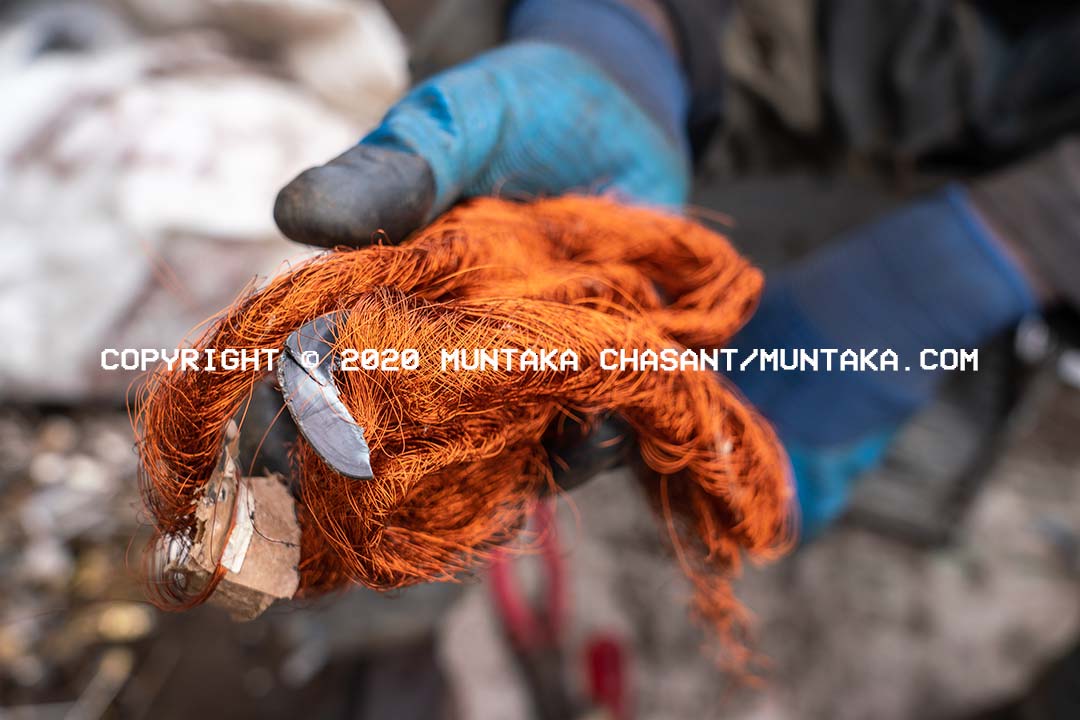 Read more about Agbogbloshie here:
Related: Agbogbloshie, Ghana (2020): Questions and Answers
Copyright © 2020 Muntaka Chasant
Sources